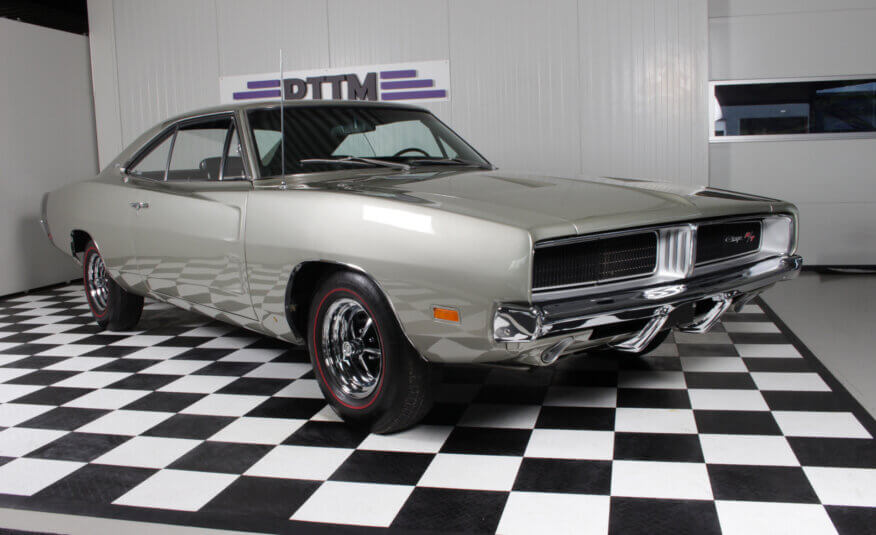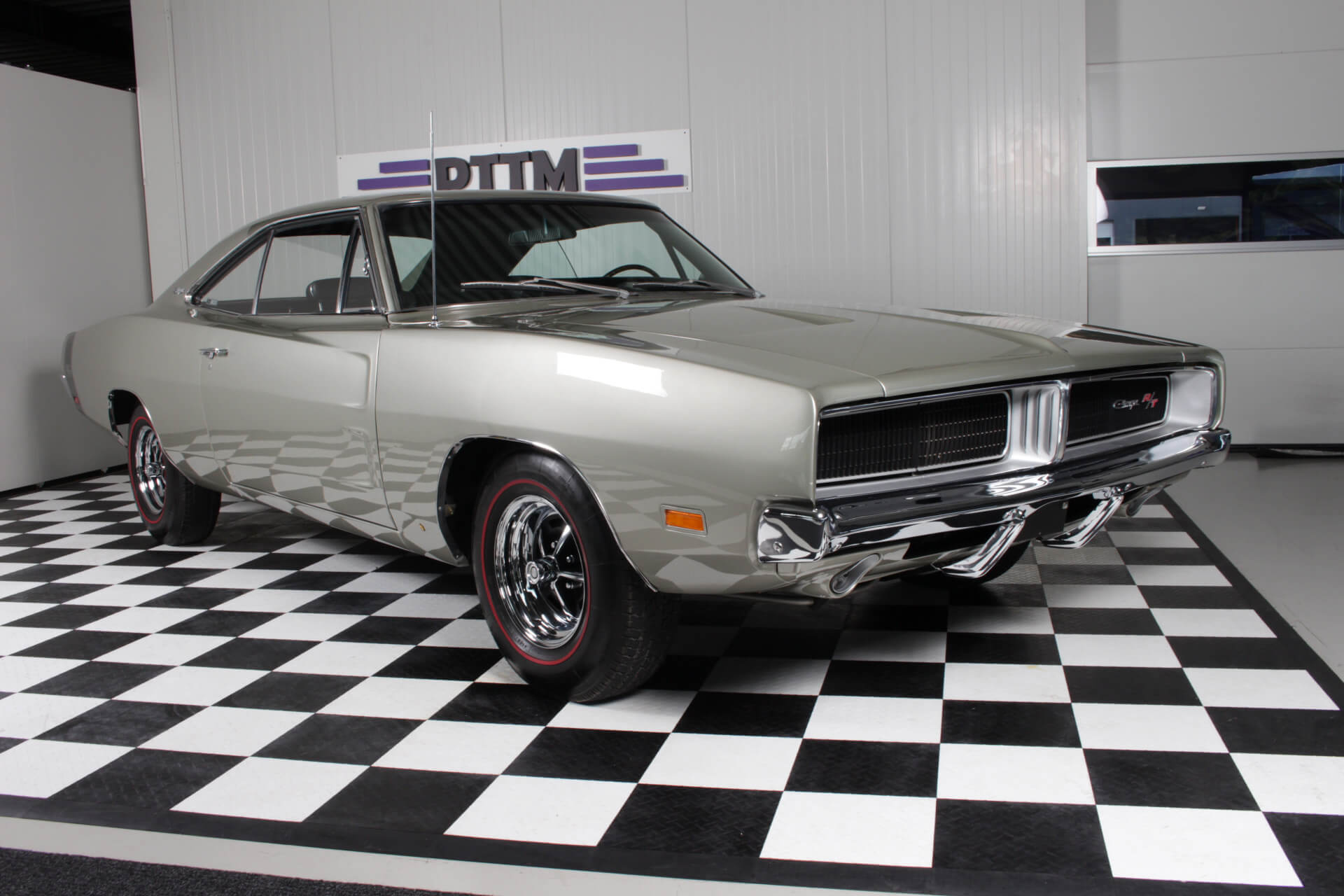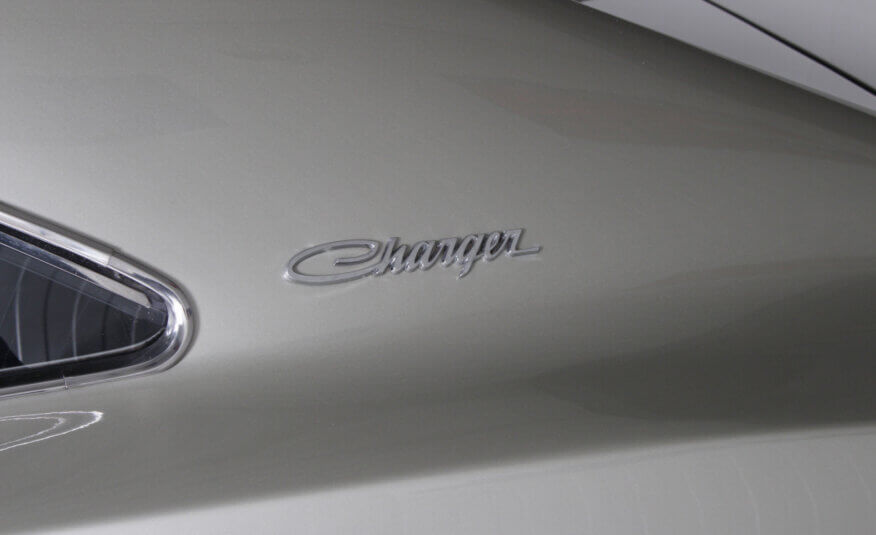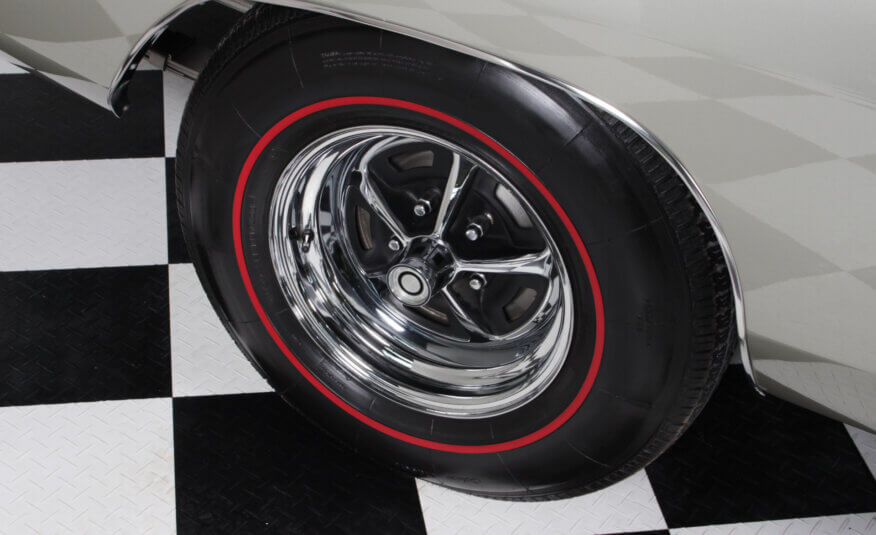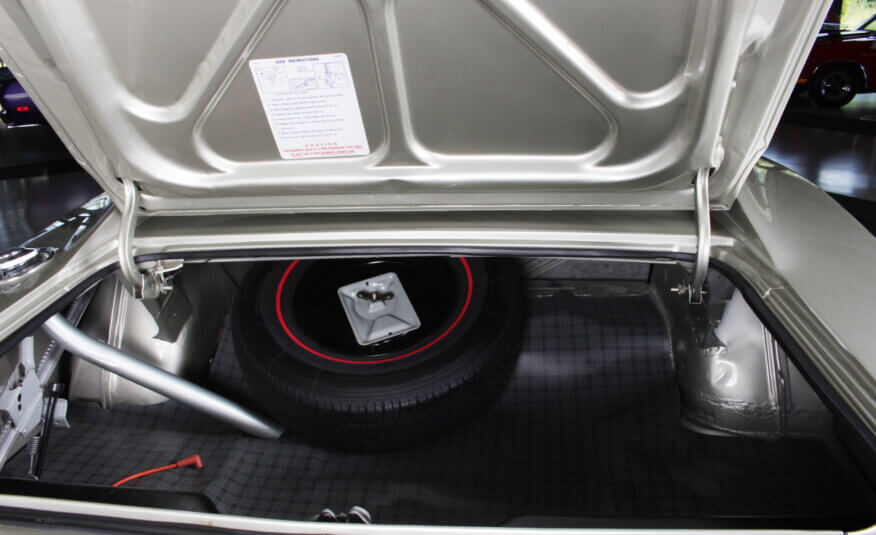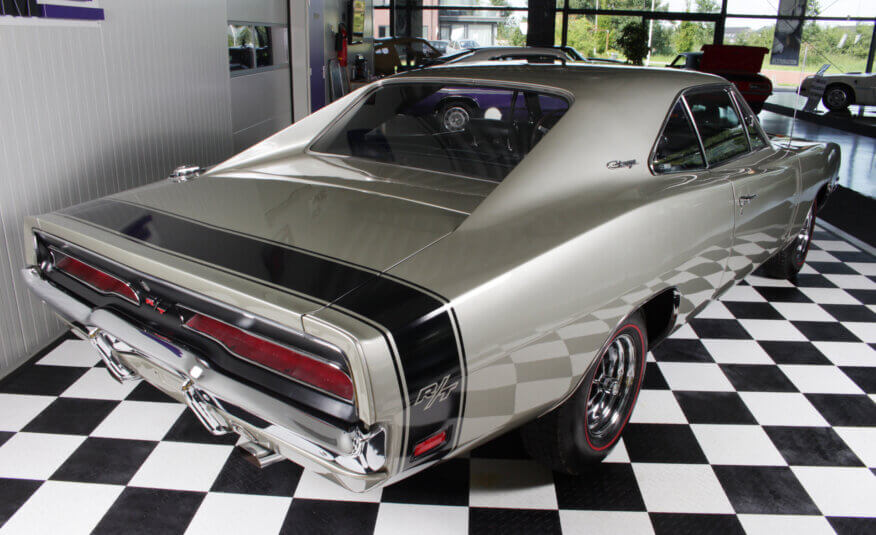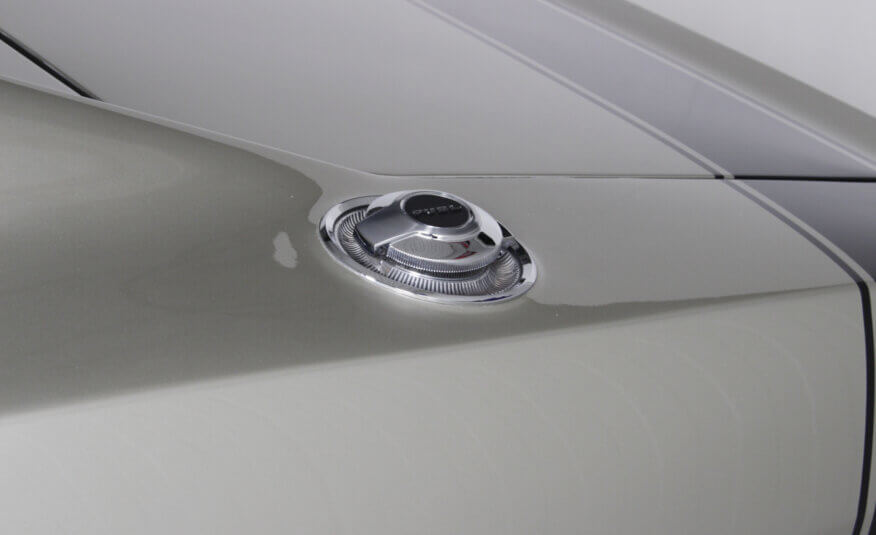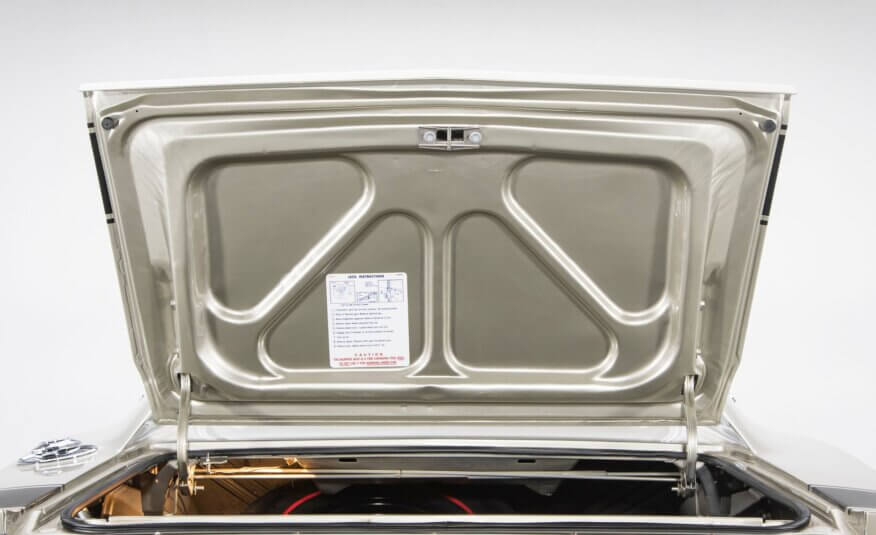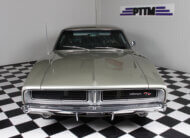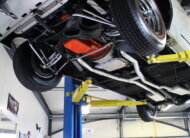 New in our showroom!
Really rare 1969 Dodge Charger RT 440 Automatic, matching numbers & restored to original specifications. This amazing A4 Silver painted Charger is restored to a high level of quality, It's beautiful all-together with the Black RT Tail stripe and its Chrome magnum 500 wheels. There are only a handful build in this unique combination, and then even being matching numbers is even rarer, we have a great car here with Pedal To The Metal!
The whole car is being restored inside and outside, the car is high optioned and has many original parts still on the car. The body is straight, and the Silver paint shines very bright and deep, the undercarriage is protected with a black coating, and the original engine is painted Hemi Orange like it should be, so when you open the hood the big-block 440 engine is looking fresh. And it's even fast!
In 1969, you could order a Charger RT only with a 440-4 barrel or a 426 Hemi, this last version is costing more than 200,000 euro's maybe even closer to the 300,000 euros when it's in the same condition as this car. So when that is out of your budget, this is the best choice, a 440 engine produces original 375 HP and a lot of torque considering the big volume of this engine! You could order an Automatic 3 speed Torque-flite transmission or a 4 Speed Manuel transmission, the car we are representing today to you, has the automatic version. That is perfect for relax cruising and city trips, the automatic transmission will be shifted through the Floor shifter where you can choose from the Automatic D or manually shift through the gears 1 until the 3 third.
The car has a high grade interior if you take a look at the Sporty Bucket seats that where an option. And have a look at the beautiful dashboard where the TIC-TOC-TACH gauge is, this is a Clock and Tachometer in one, unique and beautiful to see, the car has also a Thumb wheel Radio. And a luxury big wood grain steering wheel that matches the wood grain of the center console. It has black seat belts, black floor mats, and we don't need to forget Air-Conditioning, this car was ordered with a lot of options and many trim packages, it's a luxury equipped Charger!
An RT Optioned Charger came with Road and Track style Suspension, you had performance Torsion bar Springs in the front, performance leaf springs in the back, stiffer shocks front to back, a front sway bar, better steering system, and many more road and track options so the suspension and steering of the car meat a performance road and Track car.
Even the Trunk compartment is clean and beautiful and complete with an original style Jack and spring and wrench that is hard to find these days, and the Redline Steel spare tire, together with the original style floor mat and don't forget the unique taillight cover. It's clean and fresh overall. Overall you are looking at a beautiful restored Charger RT that meets high standards, and we think it will find a new owner fast. As we have many interest for a restored charger in this condition, so don't wait too long, we only have one, and it can only being sold once.
The RT stands for Road & track. And the 1969 Charger R/T started at $3,575, which included the 440 Magnum engine, rated for 375 hp, along with a three-speed TorqueFlite automatic transmission linked to an open differential containing a 3.23:1 gear set. The unit-body chassis was also fitted with a heavy-duty version of the front torsion bar/rear leaf spring suspension systems and heavy-duty drum brakes. Its interior was furnished with vinyl-shod front bucket seats, a three-spoke steering wheel with a partial horn ring and the racy Rallye Instrument Panel Cluster, the latter included a clock and analog auxiliary engine gauges.
The entire package was wrapped with an exterior that appeared to be similar to the 1968 redesign, but there were significant changes, including a new recessed grille divided vertically in the center and a set of restyled tail lamps with broad, deeply recessed lenses. Aside from R/T emblems, an R/T Bumble Bee tail stripe was also applied as standard equipment, but this feature could have been deleted. There were even more options to note here, but these were the most noteworthy!
Option list:
* Authentic Charger R/T that's benefitted from a detailed, ground-up restoration
* Vin stamped 440 cubic inch Magnum V8
* Vin stamped A727 TorqueFlite 3-speed automatic transmission
* Chrysler 8.75-inch rear axle
* Factory air conditioning
* Factory power steering
* Factory 4-wheel power drum brakes
* Correct Black vinyl bucket seat interior
* Correct A4 Silver paint with a Black R/T Tail Stripe
* 15-inch Magnum 500 wheels
* Flowmaster exhaust
Break Down of the Fendertag Options:
Code   Description
E86      440-4 Barrel High Performance
D32     H-D A-727 Torque Flite Trans
312      Date Built: 3 / 12 / 1969
A01     Roof Type OR Color:  Light Package
B51     Power Assisted Brakes
C16     Console w/ Buckets
C55     Bucket Seats
G15     Tinted Windshield Only
G33     Left-hand Outside Mirror - Manual / Chrome
H51     Single Air /w Heater
M21     Roof Drip Rail Moldings
M31     Belt Molding 69-70
N85     Tachometer
R11     Music Master Radio AM
V8X    Transverse Stripe - Black
26        26 in. RadiatorWould you like to swap the current engine of this car for an amazing vintage 426 HEMI engine? That is possible! We got one in stock!
BODYWORK & TRIM:
Restored body with new high-quality paint, all the trim and chrome is polished or re-chromed. All the metal work is protected with new primers and sealers, the undercarriage of the car is cleaned back until the metal, and after this sealed again with new stone protection black paint, also the wheel arches are painted with a ticker coating, the glass is polished and cleaned, all the body gaskets and seals are new, together with all new body sealers around the original spots, the total car is cleaned after restoration, and the paint is hand polished to a high grade of shine. No cost were spared on this restoration.
ENGINE:
The Vin Coded 440 engine with casting number 2536430 and casting date 21 February 1969 That matches the estimated build date of the car on 12 March 1969, their engine is complete to rebuild with new pistons, new piston rings, new balanced crank and all new bearings, the heads are redone with new valves and springs, and are cleaned and new seated, the complete engine received new gaskets and after installation a fresh paint job.
DRIVETRAIN AND SUSPENSION:
The VIN coded 3 Speed automatic Torq-flite is rebuilt together with is Converter, and driveshaft is balanced with new U-joints installed All the suspension parts are rebuilt or are new like all ball joints and steering joints are replaced together with new shocks, new brake lines, new brake parts, new gas tank etc, the steering gear pump has had a rebuild, and all the lines are new, no cost are spared on the suspensions and drivetrain rebuild and restoration.
INTERIOR:
The Interior is complete restored with new bucket seat covers and rear bench seats cover, new carpet new floor mats, new Headliner and roof insulation, the wiring system is restored, the heater and ac unit is fresh, the dash cluster is restored with new clean lenses and restored gauges, all the trim is polished and cleaned.
| | |
| --- | --- |
| Engine type |  Chrysler Bigblock |
| Engine size |  440 |
| Estimated Horsepower |  375 |
| Heads |  Steel |
| Carburetor |  AVS 4 Barrel |
| Intake |  Steel original |
| Transmission Type |  Automatic |
| Transmission Spec |  3 Speed |
| Front Suspension Type |  Original Style |
| Rear Suspension Type |  Original Style |
| Front Brakes |  HD Drum brakes |
| Rear Brakes |  HD Drum brakes |
But if you like additional information then please contact our sales! If there are details on the car you want to change or add some personal details, we can assist you with that no problem!
- The car comes with US title and EU import taxes paid and included
- All our cars are sold with complete service and inspection prior to delivery.
- On request, we can transport the car door to door worldwide!
- On request we can also sell the car with Dutch plates or assist with TUV (H)
-  For export outside EU or business to business price please contact our sales!
- While every reasonable effort is made to ensure the accuracy of this information, we are not responsible for any errors or omissions contained on these pages. Prices and info in online ad's or website might diver and are subjected to changes and or have mistakes in them. Please verify any information in question with PedalToTheMetal Holland / Europe. 
And keep in mind that, the car you're looking at here today, was also looked at by others yesterday. And we can only sell it once!
1969 Dodge Charger RT 440 Automatic