Below you will find a selection of finished projects.
WE ARE SPECIALIZED IN HIGH-END SHOW CAR RESTORATIONS AND CUSTOM BUILDS.
We have built and restored more than 90 cars for happy clients and dozens for our own shop over the last decade. In this section, you can find information about some projects we are currently building, or have built in the past. If you are interested in having your car or project build or restored or upgraded here at Pedal to the metal, then dive in this section for more information on how we handle our projects. Many clients gave their honest opinion about the services and quality we have provided. We can build your dream car too. If you want us to look for your dream car. We're more than happy to help you find it as we have a huge database with great muscle cars.
Here is a selection of cars we restored or made a custom project for. There are tons of more cars, but the pictures are outdated.
Feel free to contact us for more information or drop by the shop
Emanuel's 67 Eleanor
Emanuel from Portugal found and bought this nice and solid 67 Mustang fastback at our shop as a base car, to have us completely rebuild the car and upgrade it to be one of the best looking Eleanor GT500E's in Europe.
We all know the Eleanor Mustang from the famous Gone in 60sec movie with Nicolas Cage and Angelina Jolie. A car that was built especially for the movie and was based on the 1967 Shelby GT500 fastbacks. Emanuel loved this car and wanted us to build his dream car to look like that movie-car but then with more special details, a more performance orientated driveline and many other special details.
The car will be taken apart completely (nut and bolt) and then we will re-install the complete Eleanor body kit to perfection, the car will also receive a complete new high-quality paint job in our paint shop in the correct pepper gray metallic colors with black stripes as the original movie car had. But that's probably where the similarity with the movie car ends… As this car will receive a brand new 550hp stroker engine build by PTTM and a special performance transmission hooked up to an ultra-strong special rear axle with 4 link suspension with coil over shocks all around.
The complete front end will be built with the best parts in performance suspension and steering. Besides that this high-performance Eleanor will also receive a completely new 4 wheel disc brakes kit with hydrated brake booster and 13-inch rotors with 6 piston calipers to make it stop like no other Eleanor ever build. The complete wiring system will also be upgraded and a complete all new custom interior with a dynamat isolation system will be installed as well. The interior will be upgraded with special seats, carpets, a custom-made dashboard, a modern stereo system and many other special details like a backup camera, onboard palmtop with MP3 and phone and of course a vintage airco system to keep out the warm temperatures of his warm home country Portugal.
This project is underway! And more pictures of this very special and high-quality build car will follow here soon! The goal is to make this car into one of the best driving and handling, most exclusive Eleanor cars that are around in the whole of Europe, and we thank Emanuel and are proud that he has chosen PTTM to make that all happen. We will make his dream come true, guaranteed!
Michael's '68 Pontiac Firebird Pro-touring special
Micheal bought this '68 Pontiac Firebird some years ago with the plan of restoring it.
Years passed by, and he just didn't come around to starting the project as it so often happens with these cars, as work and business go before pleasure. Micheal turned up in our showroom someday with the question if we could build the car of his dreams for him. Well we sat down around the table and PTTM came up with some special designs and ideas about Michael's wishes and how we felt the car should be built, and after some talks about money and a time frame for the build, Michael shook our hands as he liked what we told him, and we made a deal. He then brought the car and some parts he already acquired through the Years.
We first started to completely disassemble the car to start the complete rebuild process and check the baseline of the car. We sadly found out that the body was in very poor condition, and it needed extensive work, way more than Micheal ever thought.
When all the body work and additional upgrades and restyling features were done the car was painted by PTTM in the mat silver satin finish with flat black details. This made the car really stand out and give its aggressive looks.
The complete drivetrain was upgraded and the old worn 400cui Pontiac engine was rebuild and balanced and blueprinted in our engine shop and upgraded with lots of special performance upgrades. The rest of the drivetrain was also fully rebuild and many special features were applied to make this car faster.
The car was also upgraded with a custom Pro touring style suspension system with 4 link rear axle and coil over adjustable shocks and 4-wheel power disc brakes system.The steering system and all steering components were also upgraded to make the car steer better than original. Many special details were build to make this car special.
The finishing touch was to build the car a custom interior that fitted the Owner (A big guy) but to make all also look as much as original as we could. For safety and style a roll cage was build inn and the complete wiring system was upgrades as well. New comfy bucket seats were installed and all upholstery, trim, carpets and headliner were installed a new together with a new console and floor shifter. All in all the interior of this car can be called very stylish but still classic.
To top things of a set of custom-made "on off" set of wheels were ordered with a black center section and new performance tires with at the back a super wide low profile tire to give the car its unique stance. The rear wheel well was upgraded with a mini tubb already in our metal shop so all just fitted perfectly. She looks stunning with it!
When the car was done it was tested and fine-tuned, and it's now ready for the owner to put the first 1000 test km's on the car, so we can do one more final inspection as that's always the best thing to do to make sure all the little new car build bugs can be removed and the complete engine and drivetrain serviced for the first time.
We think all in all this project turned out very nice for the budget that available and Micheal can be proud of his new car, and we hope he will enjoy it for many years to come. We revealed the car to him late August 2020, and he told us he was very happy with the car and satisfied for the work we performed, which of course is what we do it all for and makes us proud and happy too!
This car is completed in the summer of 2020. 
Alex his 72' Ford Torino Pro touring Special!
Alex from Holland bought this rare and solid 72'Torino GT with plans to have it transformed into a Hi-performance Pro-Touring style car.
This project was finished in the Summer of 2019. 
He found this super solid and original car in a dry state in the USA and seeing the old car was still untouched the complete drive line, suspension and steering system was all worn out he contacted PTTM to discuss his ideas and to get advice on how to transform the car into a great driving, fast and reliable Muscle car without changing the already great looks of the shapes and form of the original body too much.
After some talks and changing of idea's, budget negotiations and thoughts, Alex loved our idea's and quality of previously done cars we had built and decided to have PTTM build his dream car with us, of which we are proud of course. The complete suspension system will be upgraded to a more modern style driving car and the old worn out engine and transmission will be replaced by a Custom build high-performance FE428 Bigblock, and the old automatic transmission will be upgraded up to a Tremec Manual 5 speed transmission. Of course, wiring the car will also receive a modern style rack and pinion steering system with tilt steering column.
The brake system will be replaced by a high end 4 wheel disc brake system with Hydratec hydraulic master cylinder, all new brake lines and the complete fuel system will be upgraded as well. We will also upgrade the complete wiring system and design a new dash for the car with more modern and accurate gauges to watch over the new engine. Besides all that the car will also receive a new set of custom alu wheels with better tires to handle the new engines power and some other exterior and interior details will be made.
All will be done with a taste for the original style of the car. The reason we choose for a FE428 Performance engine is because that's a monster in power and torque and is also period correct for this car and preserves its complete style and is why these classic Musclecars are so much fun to drive. Especially combined with a manual gearbox! More items and details might be changed or added later on, you never know ahead with these bigger projects.
When this car is done, Alex will have one great looking, ol'scool style Musclecar that's equipped with a period correct classic style details and drive line, combined to its fantastic and aggressive looks, and we are sure he will fall in love with how it handles, drives and performs on the street. It will eat Porsche's alive and outrun most modern style sports cars for sure.
More news and some style designs samples follow later!
The owner told us when he took delivery of the car: I'm very pleased with the final result. I did expect good work from you guys, but the final result and the way it handles and drives is stunning. All you're testing and fine-tuning after the project was done, was a long wait but well worth it.
Thanks, PTTM and crew, I'm more than happy with this car, and you did a fantastic job! And the whole experience was excellent.
Patrick's 68'Pro Touring Style Dodge Charger RT
This fantastic triple black charger was sold to Patrick by Pedal To The Metal.
Owner: Patrick Koorenman/Belgium – Completed 2015
Although the car was in good overall condition, Patrick still had his personal wishes and request to change the car into his personal dream charger and asked PTTM to perform the build. We started by replacing the complete drive line with a custom build front coil over suspension system with vented and slotted disc brakes and new rack and pinion power steering.
The rear end received a brand new DANA 60 axle with 3.55 gears and a complete 4 link rear axle system with coil over suspension system and new 4 wheel SSBC slotted and vented disc brakes with big calipers as well. The interior was changed and a new carpet and dynomat isolation were installed and the car received new seats and rear bench in black custom-made leather upholstery.
The underside of the car was cleaned and painted in a flat coat black and the original 440 engine was replaced by a brand new PTTM build 600Hp 500 cubic inch stroker engine combined with a complete new 3-inch stainless exhaust system also custom-made by PTTM. Besides all that the car also received a PTTM build transmission with a gear vendor overdrive kit for a good balance between overall performance and highway engine rpm.
The wheels (originally black dog dish style) were changed with a set of custom alu wheels with a black coated center and wide low profile tires that makes this car stand-out even more. While we were ad it, Patrick also requested us to install a Vintage airco system in the car, and he wanted power windows and a modern style stereo system. So, all in all, we pulled out the complete dash at the same time and renewed all the wiring at the same time.
All in all this turned out to be a complete restoration and transformation into a Pro-touring style charger. Late summer 2015 after many road tests we turned over the keys to one happy owner! This 69 triple black pro touring charger turned out really amazing. Don't you agree?
Maarten's -70' Plymouth Roadrunner 440-6 pack 4 speed
Maarten owned his 70 Roadrunner for several years before he turned to PTTM to have it restored. The car looked to be in nice shape but after closer inspection, many flaws were found in the body.
The car was far from its factory original condition and in a wrong color, but the most important thing about the car was that it still had its matching number drivetrain and original fender tag and build sheet! It's also a very rare car with its V code 440-six-pack engine, with its 4-speed hurst pistol grip manual shift transmission and Super track pack 4.10 geared rear axle and air grabber hood! That fact made Maarten decided to have the car restored back to its former original glory, and he chooses PTTM to do the job, combined with some work he would do himself with our help. It turned out to be a massive job.
The complete car was stripped to the bone, the body acid dipped and cleaned and then the metal works began. The body needed extensive work as through its 45 years live had seen many poor partial restorations and work done. Then the body was made free from rust and cleaned again and dipped to receive its final base protection layer and then its paint. In the meantime, PTTM restored and rebuild the 440 six-pack engine and transmission/drive line back to stock spec's and every other part received a nut and bolt restoration to factory spec's. All the wiring, switches and brake and fuel lines were restored or renewed and then the car was built back together again. The complete interior was restored as well with Maarten's help and all in all this car turned out to be a real eye-catcher. Its now back to its former glory, or maybe even better than it ever was!
All in all a major project that took more than 3 years to complete. The car is highly detailed now and 100% correct to its original build sheet specs and the end result is a number 10 quality car in every sense of the word. We handed over the keys of the car with a nice reveal party to the owner and his lady in the summer of 2013
The owner told us: It was a great experience to see my car come back to life as it was when sold new.The whole process was done with great care for originality and quality in mind and had a lot of fun during the whole process. Your knowledge and quality in restoring these original rare Mopars must be the best in the business and your prices are more than fair. Thanks, PTTM and crew, I'm extremely happy with this car and will enjoy it for sure!
Jeroen's - 69 Pro Touring Chevy Chevelle 572
Full custom build pro touring chevelle by PTTM
Jeroen's 69′ Pro touring Chevy Chevelle 572!
Completed 12/2015
This Bigblock BADASS 454 Chevelle was sold by PTTM to its current owner a few years ago. The owner wanted to change the car into his own dream ride and used this car to make that all happen. He asked us to do the job in several steps. The first item was to change the stock style suspension and rack and pinion power steering and to add an air ride system under the car. Second, we to replace the older stock transmission with a new performance one with an overdrive and change the column shifter into a floor shifter car with console. When that job was done the owner changed a view other details and the car received a new modern style dash panel with new gauges and switches.
His biggest wish, however, was to have the car repainted in black and to change over the red bench seat original interior into a black bucket seat interior, which meant we had to change over the complete interior, headliner dashboard, door panels and all strips and covers inside the car as well. At the same time, power windows were added, and we isolated the car with dynomat.  When that work was all we repainted the car in deep black with dark gray metallic SS ghost stripes on the hood and trunk.
The last big step was that the owner asked us to build him a brand-new performance engine as he wanted a more power than the already beefy 454 that was in the car.  So he ordered a brand new PTTM build custom 572 ! big block at our engine shop combined with a vintage air-condition system and modern style serpentine belt system with alu pulleys.   Of course, this new monster engine needed a better fuel system and at the same time, a complete new stainless steel exhaust system was build combined with new custom-made headers seeing stock headers wouldn't fit this 572 big block. When all was done the car was tested extensively and then the car was revealed to its owner late 2015.  So all in all this car received a complete makeover and got a brand-new look! Its one of the nicest and fastest Chevelle's around!
The owner told us: I'm really very happy with the car and amazed at the cars overall high quality. It was a long and intensive process but you guys performed a great job, it's simply perfect.  I really enjoyed the complete period of the build with you guys and never once did i had doubts about your high-quality standards, besides that it was always great to feel welcome at my visits and your prices are really competitive. You must be the best restoration shop in the business.
Dennis his Pontiac Trans-Am 455 PRO-TOURING PROJECT!
DENNIS HIS PONTIAC TRANSAM 455 PRO-TOURING PROJECT !
Owner : Dennis de Zeeuw – Holland
Completed : 02/2017
It was Dennis his lifelong dream to own and drive a special build 455 Pro-touring style Trans-am, and we were glad to make his dream come true! PTTM body & paint shop transformed this original real deal! 74′ 455 trans-am into one hot looking muscle car.
We started with completely stripping the complete car and mount it in a stand to do all rust -sheet metal repairs on the body, chassis, and floors and replace it with new sheet metal. The car was in very poor condition and everything was replaced with new metal.  The original 1974′ car had an incorrect mounted 73′ nose which needed a completely new frame and lower front valance panel that we build for it. Dennis loved the 74′ rear, so we didn't change that.
After that work was all done we cleaned it up and made they are ready for paint in the PTTM paint shop for its new snow-white paint job and specially designed stripes and logos. In the meantime, we rebuild the complete transmission and freshened up the 455 big block and did some other technical work on the engine and driveline of the car and added some special options like 4 wheel disc brakes combined with a top of the line HOTCHKISS front and rear suspension and steering upgrades.
The interior of the car was also completely rebuilt and dynomat was applied on the floors for a better sound and heat resistance. We kept the interior pretty much original, besides new seat covers, new carpets, and headliner, seeing the Trans-am's originally have a great looking interior. The dash and all the gauges were rebuilt as well and the old wiring was replaced as well.
We also build the car a special PTTM front to back stainless exhaust system and complete new suspension system. Next, the complete interior was restored with new upholstery, carpets, and other details and al the wiring was redone and restored as well as the dash and gauges.
To make the car stand out even more we ordered special original style 17-inch wheels for the car with low profile tires. The owner also had some other wishes and details for the car which were all taken care of as well.
When all work was done we were impressed with the cars overall performance and its power. This car doesn't only look good, it performed even better! And that's what a real pro-touring car should be like. Dennis will get the keys of his ride soon so he can start enjoying it!
For the budget, this car was built it is an absolute Jewel  The goal was to build his personal and clean looking, pro-touring style trans am, within his limited budget, and we think that all turned out pretty good!
When the car was revealed in early 2017, the client told us :
I'm very happy with the car, the complete build process and the overall quality of the car it turned out even better than i could expect. Thank you! To the team of PTTM for making my dreams come true!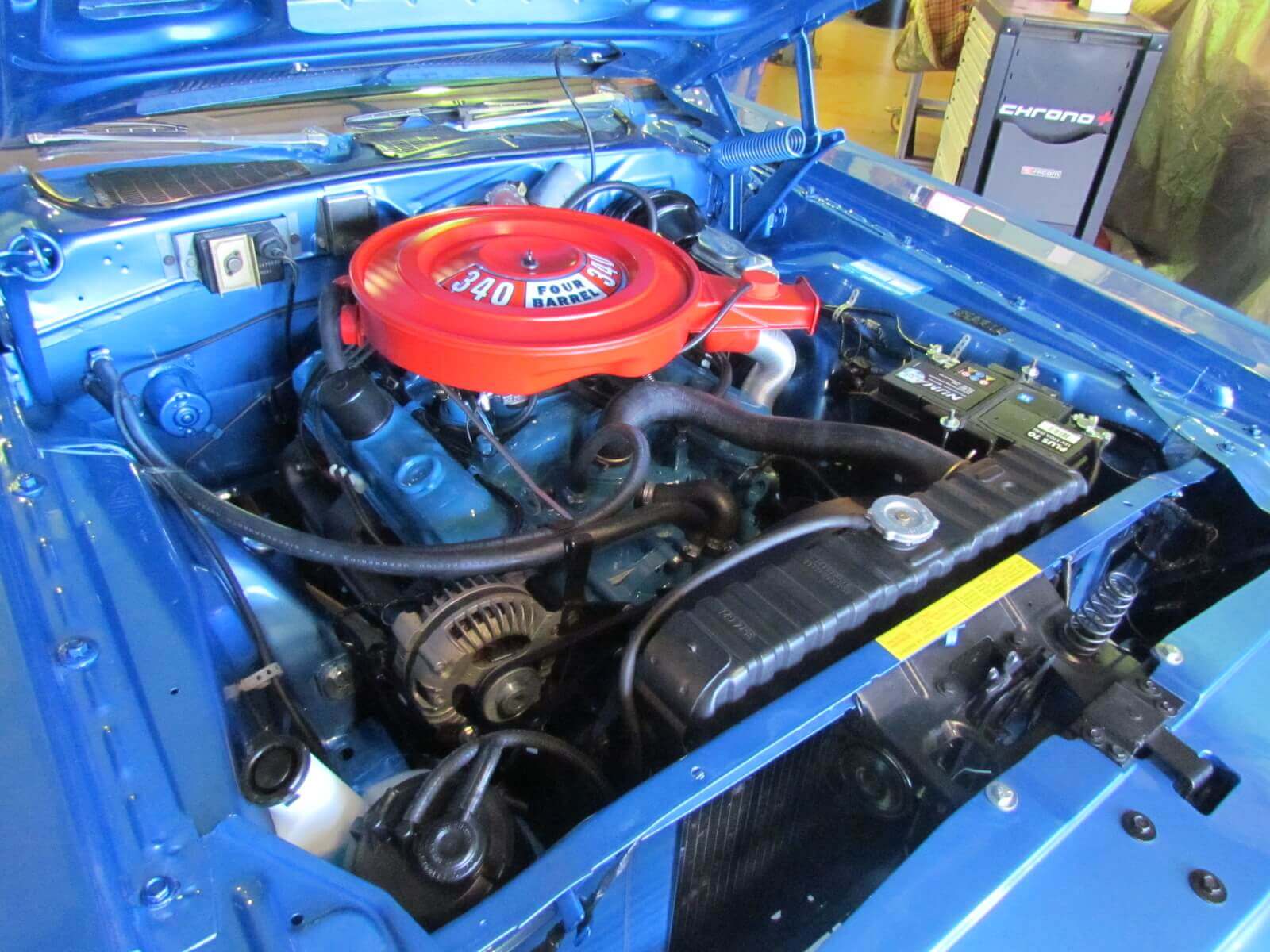 Claude's - ' 72 Dodge Challenger Rally 340
Rotisserie high quality restoration of a matching number Dodge Challenger
Owner: Claude Perin – Belgium
Completed 2015
This rare 72′ Matching number Dodge challenger was sold to a Belgium client by PTTM with the condition that it was going to be restored back to its full original glory.
The car on the left is the car today and right is how it will be when we restored it back to its original condition. The car has its matching number engine and transmission and also the build sheet and fender tag was still with the car.
It was painted black somewhere back in the past and there were some details and parts missing.  The car originally was painted in the rare and beautiful GB5 blue with a black vinyl top a blue interior and is a rare combination on a real JS coded 340 rally Challenger. The base was a solid all original body and the car was very complete and correct besides bad paint, and it was missing the vinyl roof.
The engine and driveline were 45 years old and all could need a fresh rebuild as well.  PTTM was given the order to restore and rebuild the complete car back into the correct factory original show condition. We did a complete rotisserie restoration was every nut and bolt was restored.
This was all done in PTTM's own shops, and we are very proud of the result!
The owner told us: when the car was unveiled: I'm MORE than pleased with the car and PTTM's great eye for originality, quality, and detail.  You are absolute specialists and craftsman as this car turned out better than i ever could have expected in my dreams. And to see the progress of the restoration during my trips to Holland were always fun, and you were more than friendly during the complete build and i always received ton's of pictures and updates in between, and you were always there for my questions and remarks. 
Thank you very much for this great car and the complete very positive experiences during the whole process from start till finish!
Jan's - 1969 Dodge charger RT 440 Rotisserie high quality restoration of a matching number Charger RT
Owner: Jan Moeskop / The Netherlands.
Completed 2015
Jan bought this rare Charger RT in our shop some years ago with the plan to have us restore the car back to its former original glory.
Being a correct, matching numbers and rare triple green RT this car would really stand out from the usual red and black chargers. We started with a complete disassembly of the car and the body went to the body shop as it was in bad shape it received new quarter panels and floors and we restored the doors and front fenders. The frame rails were super solid and didn't need any work. The body and all the metal parts were then acids dipped for cleaning and de-rusting and than all parts and the body received a special thermal coating dipping procedure to make sure the car wouldn't rust ever again.
The engine and driveline were rebuilt and restored in our engine shop and we started to restore all the trim and moldings and re-chromed all the parts that needed it. We hunted the world for many original factory parts and started to restore the complete interior with legendary interior parts. The car was painted back into its original and rare factory FF1 light green metallic paint and afterward, we topped that of with its original green vinyl top.
The car was painted inside and out, and the underside shines as deep as the topside !. Every nut and bolt. all the wiring, switches and brake and fuel lines were restored or renewed and then the car was built back together again. All in all a major project that took more than 3 years to complete. The car is highly detailed now and 100% correct to its original build sheet specs and the end result is a number 10 quality car in every sense of the word. We handed over the keys of the car with a nice reveal party to the owner and his lady in September 2015
The owner told us: I'm extremely happy with the car and amazed at the cars overall high quality.  I never expected the car to turn out this good and the choice to stick with the original color was the only correct one, it is simply perfect.  I enjoyed the complete period of the build with you guys and never once did i had doubts about your high-quality standards. You guys must be the best restoration shop in the business.
Thanks, PTTM and crew, I'm extremely happy with this car and will enjoy it for sure!
69' Dukes of hazard Pro touring Charger RT
VERY SPECIAL -1969 DODGE CHARGER RT 500 CUI 700+ HP!
OWNER: R.Kereweer – Holland
Car completed: 2014
Pro touring car in Dukes of Hazard style! Custom, rotisserie restored and build by PTTM. 500 Cui B1-700 HP Engine BY PTTM /1200HP race trans by PTTM/Dana 60 rear axle with 4 link suspension system.
After more than 3 years of on and off work, PTTM revealed a unique custom build Dukes of Hazard tribute car to its owner. The car has many very special features and is not your typical dukes clone and was completely restored during those years.  Besides a PTTM build 700HP B1 engine and 1000 HP transmission, this car is also equipped with special steering and suspension components and 4 wheels disc brakes with hydratec booster and a Dana 60 rear end with a fully adjustable 4 link system and coil over shocks.
This so this car would not only look great but is very fast, and it handles like a dream.  The interior is one of the even more stunning features being made from specially selected leather and other deluxe beige interior materials and carpeting, all handmade and especially selected on customers wishes.
Some other special features are: Hand build PTTM 500cui/700+HP engine, top quality paint job in hemi orange, hand painted decals and flag, all black powder coated trim and bumpers, handmade console with additional gauges and reverse shifter, custom-made power window kit, hand welded stainless steel exhaust system  with electronic cut-outs, Correct dukes style wheels with 10j/295 tyres at the back, Removable bull bar, 4 points 3 inch roll cage, line lock, and of course the special DOH airhorn and a functional 27mc receiver with antenna couldn't be left out!
The car was unveiled in a special Dukes style way, and afterward's, the guests all enjoyed a nice BBQ and a cold bear all in style.
The owner told us: I'm overwhelmed with the car and its features and the high grade of overall quality, everywhere you look you see the HIGH quality of the build and i love the details and style of this fantastic and very special D.O.H charger! It is an absolute BEAST to drive, but handles like a dream. PTTM be sure, if i ever want another car… You will be the ones to build it! Big thanks.
55' Chevy coupe ``Bel air``Pro touring 572 by PTTM
55′ CHEVROLET COUPE with 572 cui Big Block! Custom build by PTTM
Owner: Wilbert de Koning

Completed: 2014 
Engine: 572 cui Chevrolet Bigblock by PTTM/Trans: TH700R4 with overdrive and 4 link rear end.
Wilbert's long-lasting dream was to own his own a 55'coupe and to have the car fully customized into his own personal car and style. He turned to PTTM for the job, and we are proud that we are the one he trusts into building his dream car. Starting out with a very solid and technical sound car the body was restored and painted by PTTM paint shop in a two-tone top paint job which was then hand-polished to get a fantastic shine. Wilbert also asked for a car that would really handle in the corners and would brake perfect, so we changed the complete suspension over to a coil over suspension system and at the back we gave the car a complete custom build 4 link suspension system so the expected power of the new engine we had planned could touch the ground and the car would handle well in a straight line as in corners.
The car also received a complete new Bear 4 wheel disc brake kit with monster calipers and special pads. The complete underside was also painted and coated after we installed new brake and fuel lines. Seeing Wilbert wanted some real power,  PTTM muscle engines build him a hand built MONSTER MUSCLE 572 cui Big block engine which dyno'de at more than 720 HP and monster torque. It was installed in the car with a new aluminum radiator, trans cooler and special made Headers for the 572.
It was also combined with a brand new 4-speed Monster automatic transmission with an overdrive. The car also received numerous special details and a complete new wiring system, a custom digital dashboard and a new console with shifter that matched the perfectly done custom build beige leather interior.
The car also received special handmade 1ofakind billet aluminum wheels with HUGE rear tires so all the power could be handled and give the car that fantastic look. All the chrome, all trim and lights were restored and the car also received a PTTM custom-made polished stainless steel dual exhaust system with a fantastic sound.
The complete build was done 100% in PTTM's own shops. All in all this high-quality show car doesn't only look good, but even more importantly it drives even better and handles like a dream and be sure it is REALLY FAST! The car was delivered to its new owner in Holland in April 2014.
The owner told us: 
My lifelong dream finally came true, and what a dream it is! It is not only beautiful, but it is fast! And drives and handles like a dream! I think it's one of the best Chevy's i have ever seen, in looks, quality, and design. Thanks PTTM for this high-quality build and i'm 200% happy with you guys and my new car! 
71' Plymouth HEMI cuda by PTTM
Owner: PTTM / The Netherlands –
Completed & Sold : 2014
PTTM build this 1971 "triple black" Hemi Cuda tribute car as a homage to the most legendary of all muscle cars in the 70s. It was sold during its completion to a German customer who fell in love with it.
Starting with a base true 1970 Plymouth 340 Cuda 4-speed car, the car was completely disassembled and rotisserie restored to the highest possible quality, the car was high quality painted in the PTTM paint shop with many layers of base coat and clear coat and polish it to a fantastic deep shine. The car received a correct black vinyl top and all the correct original trim.
In the meantime in the PTTM engine shop, we build the car a correct and custom build 426 Hemi engine with around 500hp, an all-new 5-speed manual transmission for more comfortable cruise rpm's and a correct Hemi style Dana 60 rear axle with lim.slip differential. The complete wiring, steering and brake and fuel systems were installed new as well.
Of course, a correct style shaker hood was installed and the complete interior was restored with black bucket seats, rally dash and the famous Hurst pistol grip shifter with a console was installed. All the cars chrome, glass, trim, emblems and billboards were correct and restored or new Cuda parts and so was the installed rear go-wing and the ultra-rare rear window louvers. All in all a major project that took more than 2 years to complete.
If this car was the real deal its value would have been worth several millions of dollars, but we build the car for a fraction of that cost and with the best possible quality in mind. The finished car looks amazing and its equipped with many original special factory options. The car, although built as a true homage to the real Hemi car's, stands on its own and deserves the same respect. Its a great car and can be really driven and enjoyed as where most original cars never see the light of day and are hidden in private garage's or museums.
Its very well possible, although we would like to, that we can't ever build a car as correct as this one again due to the fact that its almost impossible to find the right parts for it, or even to find a real 71′ base Cuda car to do the job on.
We know the new owner enjoys it and is happy with it, and he understands what rare car he has.
Lars - his '70 Dodge Challenger 440 RT 4-speed
Matching numbers '70 Challenger 440-4 speed track pack
Owner : Lars van Straten-Holland
Project finished : 15/12/2016
This awesome Mopar is one of the most wanted cars around, a real Challenger RT with the 440 engine and a 4-speed manual transmission and a Super Track pack DANA60 4.10 geared rear axle. It's also loaded with great options and is an original Plum crazy painted car combined with a white vinyl top and white interior. Besides that this unique car is fully original and carries its original drivetrain! PTTM found this unique car in a barnyard in California where the car was parked by the first owner more than 30years ago!
More than 30 years later the first owner planned to restore it, but he just never got around to it, so he put it up for sale were luckily for us and our clients that's where we found it!  The car was complete, matching numbers, and was still in pretty original condition and complete. The body and structure was intake besides some rust and smaller damages that needed to be addressed with.
We just couldn't leave it there and closed a deal then bring it home to be restored and to be brought back to its former original condition. Lars walked into our showroom and saw the 43-year-old car as it was and understood what a great and rare Mopar this was. And although he wasn't really looking for a restoration project at first, he soon found out that if he ever wanted a unique car which could meet his high-quality standards, he would need to go with a restoration project such as this car. As once, it would be restored back to its original condition by PTTM he would have a car that would meet his high standards.
And seeing Lars understood the car and the needed to be brought back to its factory original condition we soon made a deal and his car will now be rotisserie restored with respect for its originality. We at PTTM are very proud and fortunate! To have gotten the task to perform this restoration and build the car back to its original former glory!
The car will receive a high-end full rotisserie restoration. After the necessary sheet metal work, the complete body and chassis will be acid dipped and coated before it will go into our paint shop. The complete and original 440 cui engine and drive train will be rebuilt by PTTM's engine shop. Then the rest of the car will be restored and build back up to its former original glory with correct parts and details.
The owner told us: Although i never intended to buy a project car and have it restored originally, i must say honestly that i probably would never have become such a high-quality rare piece of Mopar history.
It is incredible how you guys turned this rusty old barn find into a car that looks like it left the showroom in 1970, or probably even better than that.  The overall quality of the car is amazing and all is done with a great eye for detail and quality. The colors on the car are stunning and i just love the plum crazy color with the white top.
Thank you Team PTTM for all the energy, knowledge and passion that you guys put into my dream car, i can't thank you enough!
Jerome's-71' Challenger 340 Convertible
Complete rotisserie restored ULTRA rare 1971 Challenger convertible.
OWNER: Jerome Washer-Belgium
Completed: May 2017
Jerome just loves  Mopars in general and already owns a rare collection of rare car's, and he was looking for a special convertible car for a long time. He found his dream car for sale as a project car on our website.
Seeing he wanted the best of the best he chose for a restoration car, so he could follow the build and get the best of the best. He bought the car at PTTM and asked us to do the restoration for him of which we are proud of course! The car is very rare seeing it's a 3 fender tag optioned car, fully numbers matching and equipped with all the performance goodies Mopar had to offer in 1971. Seeing the RT model was no longer available in that year it makes the car extra special because it has all the RT options.
The car is also very rare seeing it's a Dealer Promo car and originally exported/build as an export car for a Canadian Plymouth dealer or importer. The car has a full map of history and its original fender tag and build sheet.
The car spends its entire life in Canada before PTTM found the jewel, it was painted blue over the years but underneath and according to its build sheet it's originally a real HEMI-Orange high impact paint car. It's also a probable1 of 1 ever built a car… An unique car that we restored back to its former glory! The body was already very solid and the car has most of its original parts and matching numbers drivetrain still there!
This original EV2 paint code car has a white interior and a black side RT stripe original and some of its options are power steering, power disc brakes, elastomeric bumpers, power windows, power convertible top, wheel opening moldings, AM/FM thumb wheel stereo and cassette player,  dual painted racing mirrors, console and bucket seats, rally dash, Luggage rack! All original and optional trim pieces and more!
We just love restoring these original car's back to their original condition and this one, being so rare and in a fantastic color combination with the 340 performance engine it turned out pretty awesome don't you agree?  The car was finished and delivered in May 2017.
The owner told us: Wow! what a car, in this color it is even more amazing than the previous non-original color, you guys did an amazing job and I'm extremely happy with the car. You delivered an ever higher quality than i had expected for a great price. Thanks, PTTM & Crew for this amazing job.
Bence's-1969 Chevy Camaro Pro touring special
Bence from Hungary was looking for a lifelong dream car, a 1969 Camaro and found it in our showroom.
This project was completed in 2018!
The car was already in amazing condition with a laser straight body and paint job, but Bence had its own idea's on how his dream Camaro should be like. So together with the PTTM restoration crew, Bence discussed his plans and dreams and a plan was made to re-rebuild the complete car and do a complete makeover on it.
The car was completely taken apart and its current, tamer 454 big block engines was replaced with a brand-new build rare classic style LS7 454 engines with more than 500hp which will be hooked up to a TH700 R4 performance transmission with overdrive instead of the current TH350 trans that were under the car.
Other changes we changed on the car are was adding a 4 wheel disc brake kit with performance calipers, install new custom-made alu wheels with low profile tires and equip the car with a classic style, but modern style stereo system. The steering system was also upgraded with rack and pinion steering and a tilt steering column and the suspension system were also upgraded for better handling and driving.
All in all this amazing 69'Camaro kept its classic and stylish looks but was upgraded with many features that made it not only much faster but also more fun to drive and safer to handle on today's roads and highway's.
We thank Bence for choosing PTTM to do these upgrades!
The owner told us: Thanks, PTTM and crew, I'm more than happy with this great car and you did a fantastic job!
Philip's-1971 440-6 pack Cuda!
Philip is a livelong Mopar man, and although he drove a 69 charger, he always dreamed of a Plum crazy 71 Cuda with a six-pack engine.
Completed: 08/2017
Seeing we had a '71 Cuda project car in stock, Philip didn't think long and decided that this was his chance to finally get what he always wanted. After some talks about how he wanted his car to build, he gave us the green light to build him his Plum crazy dream car! And we're proud to get this change and are thankful for his order.
The current base will be totally stripped and the body needs some minor repairs and a new trunk floor but besides that, it will soon be ready for paint. In the meantime, we will start working on the drive line to build a new 500cui stroker engine, of course, a six-pack intake and 3×2 Holley carbs and a new 727 transmission for the car. The rest of the car will also all be restored and rebuild and many personal details will be added or changed along the way. The goal is to build a complete as a new car in the standard high-quality PTTM builds.
After the car was build it was completely tested and the keys handed over to its prowd and happy owner.
The owner told us: Although i never intended to start a complete project car i always dreamed of a 71 sixpack Cuda I'm very pleased with the complete process and quality work that's been done by the PTTM crew! This car turned out WAY better than i dreamed, and although i had a limited budget its turned out to amazing, and it drives and handles as i had hoped for.
Thank you Team PTTM! For all the energy, knowledge and passion that you guys put into my dream car, and it was a pleasure to work with you all the way! Thanks, guys!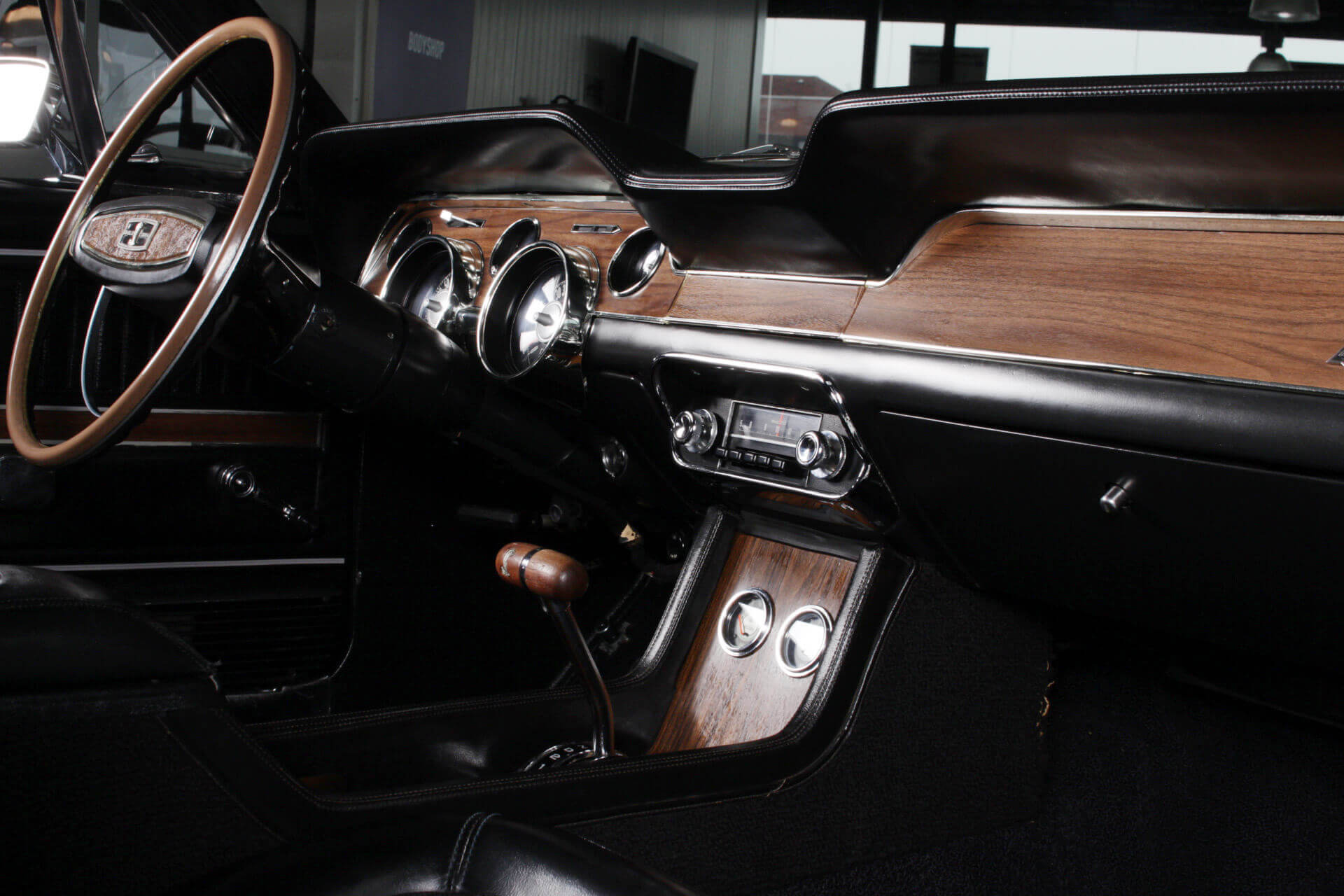 Han's-68' Shelby GT500KR
1968 SHELBY GT500KR restored by PTTM.
Owner : Han Oltlammers-Holland.
Completed : 09/2017
Han was already a well respected PTTM client when he walked in our showroom one day and found this amazing and survivor Shelby GT500KR in our showroom as a resto project.
Seeing Han was always a great fan of the Shelby cars and especially on rare original Raven Black car's, he didn't need to think twice and a deal was made.  He asked us to perform a mild restoration of the car as the body and floors were still in mint condition after more than 50 years so that didn't need any work. The paint, however, was old and cracked so that was one of the reasons to start the work on the car.  The car also had its original engine and drivetrain in place but it was all in need of a rebuild and refreshing of the steering and suspension systems.
The car was then more or less completely taken apart and the empty body was taken to our paint shop for a high-quality new paint job in the cars original and raven black paint. We rebuild the entire driveline and the engine of the car back to factory specs and the complete wiring system, suspension, brakes and steering systems were all rebuild and restored to factory spec's.
The car was then built back up and many details and aspects of this great historical car were upgraded and restored as well. When all was done this car turned out very well. The paint job was amazing with a deep piano shine finish and the car looked like it just came out of the factory.  Seeing Han really drives his classic car's the Shelby was tested thoroughly and we registered it for him on Dutch plates before we handed over the car to its proud new owner. We handed over the keys of the restored car in September 2017, and the client is extremely happy with his very special KR500.
The owner told us: I'm VERY pleased with the car, it turned out as new and very correct to the original car. Thank you PTTM Crew for performing another great restoration and for the pleasant way it was all performed and handled. Thumbs up!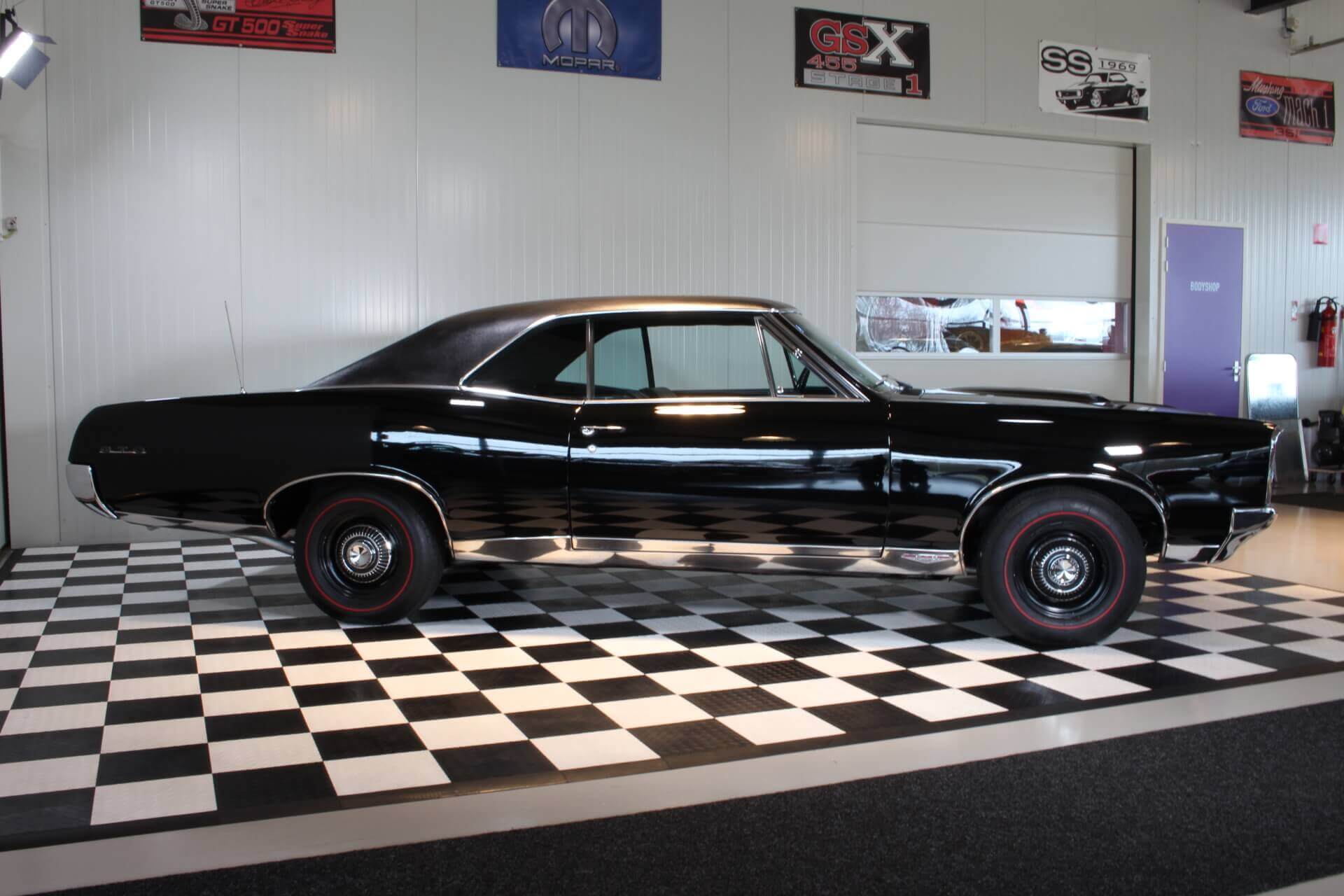 PTTM's-67' Pontiac GTO Body off restoration
This 1967 Pontiac GTO 4-speed! Was restored and rebuild by PTTM.
Completed: May 2018 & is now for sale in our showroom
This real deal, correct 1967 Pontiac GTO was found in the States by PTTM. It was in need of a full restoration but the base car was very solid and original and still driving and complete.
The complete car was body off restored and the complete engine, transmission and drivetrain was rebuild. The car was painted completely inside and out in a high gloss piano style black paint and a new black vinyl top was installed at the same time.
The original numbers matching! 400cui big block was upgraded with some additional performance, but it looks completely stock on the outside. The 4-speed trans was also completely overhauled and equipped with a new clutch and pressure plate. All braking systems, fuel system, suspension, body bushings, rear axle and all wiring were also restored to as new condition.
The underside of the car was also highly detailed and received a correct new layer of factory undercoating. All chrome, trim was restored and the complete interior and dash and all gauges were also re-done.
Everything on this Gorgeous real GTO is in as new condition and the car not only sounds aggressive but its also fast and drive's like the day it left the factory floor. Its truly one of the best looking GTO's around and in this condition its very collectible and a great car to own and enjoy.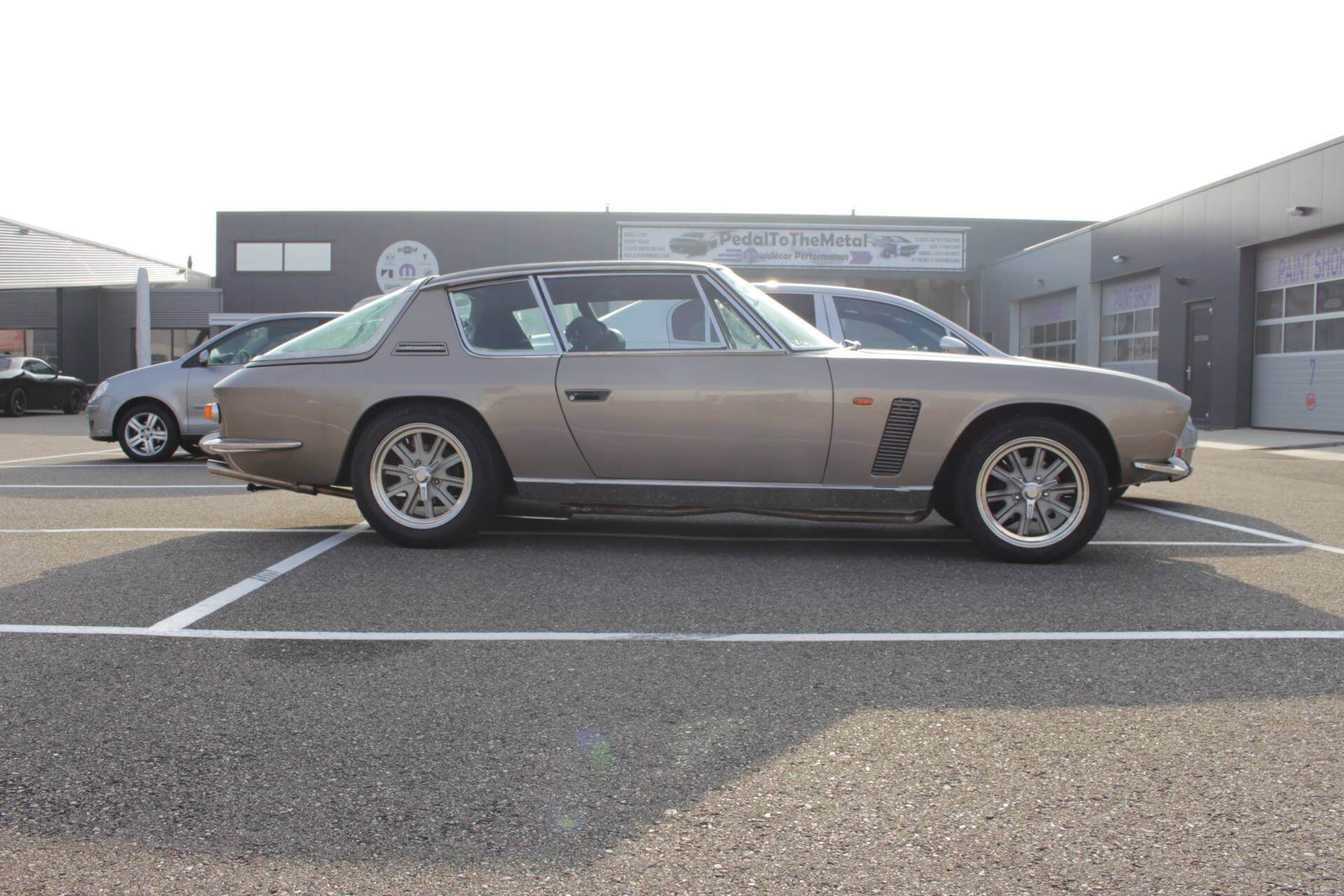 Eduards-Jensen Interceptor 383cui V8 restoration
This great classic hand-build English car with Chrysler V8 engine was Eduard's long-term project.
This project was finished in the Summer of 2018.
One day Eduard stepped into our shop and asked if we could finish the build as he just didn't come around in doing it himself… Well! Of course, we could! We love classic cars, especially V8's! The car was completely disassembled again in our shop to have some last bodywork done to it and then the car went into the PTTM paint shop for its new, but the original color and that all worked out really well, as the car looks awesome now with a great shine and laser straight body.
The engine and transmission were rebuilt and PTTM will hook it all up and do a complete new wiring system, restore the complete interior and dashboard and gauges, as well as the car, will get a new headliner, all new seals, a new original vinyl top and lots of new and restored other details. To give the car a more sporty and modern day look we equipped the car with a set of custom-made aluminum wheels that make this car stand our even more.
All in all the car will is completely restored to as-new condition.
Of course, we also completely rebuild the brakes, all brake and fuel lines, and the suspension, so this car will be as new when we're done with it and Eduard can start enjoying his great car. This will be one of the nicest Jensen's you have ever seen!. After the project was completed, the car was tested and tuned, and it was delivered to Eduard last summer.
The owner told us: Although i intended to do all the work myself, I can now honestly say that without you guys the car would never be as outstanding as it has become. Its better than i could hope for, and I'm very pleased with the car and the way you handled the complete process.
Fabian's-73 Plymouth Satellite Pro Touring
Fabian's 1973 Plymouth Satellite in Pro Touring style.
This project was completed in 2018.
Fabian wanted more power in his good-looking Plymouth Satellite, He had a 318 short block in it and a bit worn out 727 automatic transmission. After a few talks, we decide to do a little more to the car so that the new engine could provide the car a smoother and better ride. We are upgrading the engine to a 426 cui stroker engine with 550HP and tons of torque that is based on the 340 Mopar short block. That will include a lot of performance parts like a Forged eagle crank & H.Beam rods, Forged pistons & Chromemoly rings. A custom cam, lifters & TF Pushrods. It also has a Holley 670 SA Carb/Edelbrock intake. It has a high flow oil & Waterpump Windage tray. The engine will have around 550 Horsepower! And around 785 Torque!
It also received a custom build high performance 727 transmission that's made by Pedal to the metal. That has A&A transmission parts and A&A torq converter. It also has a Manual valve body. The rear end got a custom build 4link 8 ¾  rear end pro build QA1 double ADB Coilovers and the front will get Bilstein shocks. We also equipped the car with much better front and rear vented and slotted disc brakes, new brake lines and a brake booster.
Inside the car, it will get an Autometer dashboard and all new wiring and a B&M Shifter for some better shifting with the new performance transmission. And to top it all off it will get some nice Booze ZE Octane19x10 and 18×9 Wheels. Some other details were also done in our shop and when it was completed the car was thoroughly tested before the keys were handed over to the owner.
This car is a real beauty with a punch! And it will be a rare car to see on the roads. 
The owner told us: Wow! This thing really drives way better and faster than i ever expected. Thanks, guys for the advice, build and outcome of the work you did on my car, I'm more than happy with it.