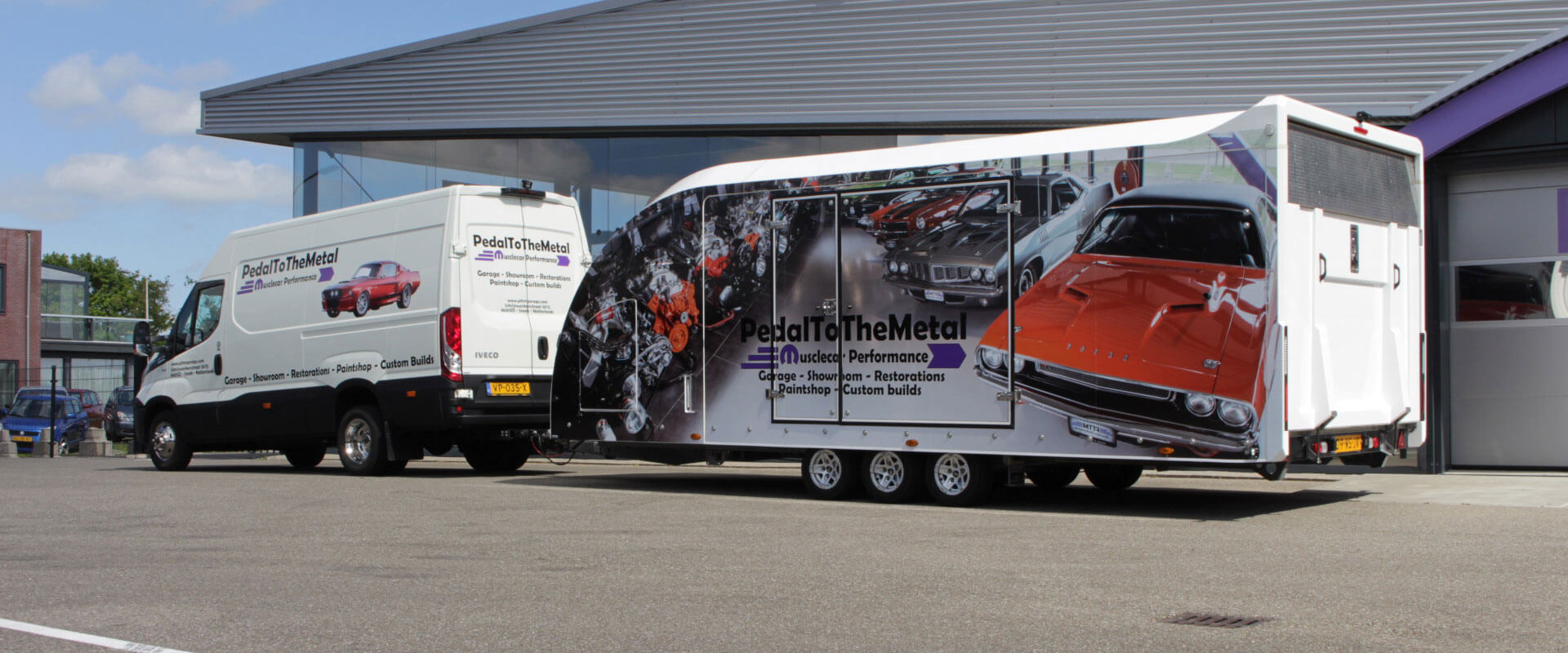 Auto transport for shipping your car
The best way to transport your muscle car
​When you've bought your dream car at Pedal to the Metal in the Netherlands, you may wish to have it transported to your home. Whether it is because of time savings, preservation or security, we have the solution for every situation.
Please ask our staff for more information about our transport fee's and you will see they are more than fair, but more important safe and sound. So even if your car needs a check-up or service in our garage, or if you just want us to bring your car from your house to any other address in the world, we are there to help you and with the correct means to do so, safe, insured and secure!
When you buy a classic car at our shop we will always advise you to have us ship your car (or come to pick it up with a trailer yourself) as sometimes the cars stood for a longer period of time and the car is new to you and nobody wants to be stranded in a strange country, or worse, get in trouble because of the weather (rain, snow) or in an accident with a car they have just purchased right? Trust us, we know what's best for you and your car!
So please follow our advice and have your newly purchased car transported to your home safe and sound on a trailer or with a special truck and then you can drive and learn all about your new classic car safe in your own home area, where you know the roads and know how the weather will be ahead of things. And in case of a tech issue, you're close to home where your friends of the family or your local garage can help out. It is not that our cars are not good to be driven home, but they're still 45+ year-old classics and not a new dealer delivered factory car. Don't save on these costs, but calculate it in your budget or plans.
Transporting cars all over the world
Most of our cars are sold to clients in Europe and we facilitate car transportation via closed VIP or open transport with special trailers. However, for many years we've been accustomed to selling PTTM cars in containers to clients from the America's to the Middle East, even as far as Japan. Each destination and client may have different needs and regulations. At PTTM, we will take care of it all, so you can relax and be assured your newest addition will be delivered at your doorstep.
Safe and insured
The main priority with our rare vehicles is safety, as replacing is not as easy as buying a new car, obviously. Whether we provide the transport or we assist with third party transportation, getting your car safe and undamaged to your destination is the number one priority. Your car will never be left unguarded or out of sight by the transporter.
Hassle free import and export
Different countries, different rules, different paperwork. Please let our sales advisors assist with the mandatory paperwork to accommodate the import/export of your car to be as smooth as possible.