Pontiac Transam Superduty 1200HP custom build
€ 349500
Included Import tax Excl. Sales Tax & Local Taxes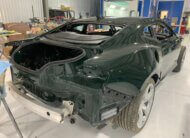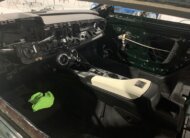 Custom build one of one ever Super duty Trans-am with hand build 1200 horsepower engine and upgraded manual 6 speed-transmission.
This car took 2,5 years to built, the car is new with only test miles on the odometer.
The Car:
This Custom build Trans-am Super duty Edition is built on a Camaro 2017 model, where a complete custom build carbon fiber body kit is used to turn it in a Firebird. The complete car is custom build, the complete engine is completely new built by legendary NASCAR engine builder, Joey Arrington of North Carolina, and has a whopping 1200 horsepower. The transmission is custom build also, to handle the high output engine power and torque, the car received a full new custom exhaust system from the front to the back. The complete brake system is upgraded, the complete interior is new and is custom build with custom logo's on it. This whole custom-built project is completely new and only has test miles on the clock. The car is took about 2,5 years to built and finish, and there is only one of this special project now around.  The car comes with new custom wheels and new tires.  So if you don't want to wait 2,5 year or longer, then here is your chance to own a one of one custom build Pontiac Trans-am Firebird Super duty edition.
The modern Super Duty Edition was limited to only 50 units and built in tribute to the legendary 73' and 74' Trans Am Super Duty. The modern Trans Am Super Duty's are built on the 6th generation GM Alpha platform. Each engine was custom designed and built by legendary NASCAR engine builder, Joey Arrington of North Carolina. Each interior was designed by TAWW in-house designers, including Bo Zolland from Sweden. The edition was sold-out in 2018.
Super Duty #11 is the only in existence finished in the classic 1973 SD Brewster Green color and finished with white leather interior as per customer's request.  This car comes in a six speed manual with an upgraded Brembo performance brake package including two-piece slotted rotors and larger six piston calipers. For traction, the car comes with eleven-inch rear wheels sporting Michelin Pilot Super Sport 305/30/20's followed by ten-inch front wheels that support Michelin Super Sport 285/35/20's.
This Super cars are built under license agreement using  the latest alpha platform of the Gm Camaro, available 2016-2020. If you look back to the history, you will learn that Pontiac based the Trans Am on the same platform, that's how it was always done. So do not be surprised with the similarities between these cars, they are and have always been intimately related, but here is where the similarities end.
A true 455 ci engine
- This is the heart of this magnificent automobile, which is inspired by the 1973-74 legendary Trans Am 455 Super Duty.
- Properly engineered 455ci DI  Motor built by Joe Arrington-The Nascar engine builder-, the engines are designed to make in excess 1000 horsepower and can achieve 1200 horsepower.
- The exterior of this car is mostly carbon State-of-the-art Carbon Fiber Body*, 10 times stronger than steel and 5 1/2 lighter.
- Very Rare car, very fast, a true modern muscle car not for the faint of heart.
This car is coming in shortly as it's being shipped to us now, the import taxes will be paid, and the car is ready to be exported to any country. This car is for sale on consignment.
Airconditioning
AM/FM Radio
Bucket seats
Console
Deluxe interior
Floor console
Floor shifter
Front spoiler
In dash tacho
Power brakes
Power disc brakes
Power steering
Rear spoiler
But if you like additional information then please contact our sales! If there are details on the car you want to change or add some personal details, we can assist you with that no problem!
- The car comes with EU import taxes paid and included
- All our cars are sold with complete service and inspection prior to delivery.
- On request, we can transport the car door to door worldwide!
- On request we can also sell the car with Dutch plates or assist with TUV (H)
-  For export outside EU or business to business price please contact our sales!
- While every reasonable effort is made to ensure the accuracy of this information, we are not responsible for any errors or omissions contained on these pages. Prices and info in online ad's or website might diver and are subjected to changes and or have mistakes in them. Please verify any information in question with PedalToTheMetal Holland / Europe. 
And keep in mind that, the car you're looking at here today, was also looked at by others yesterday. And we can only sell it once!
For Trading in your current classic car please contact our sales departmen