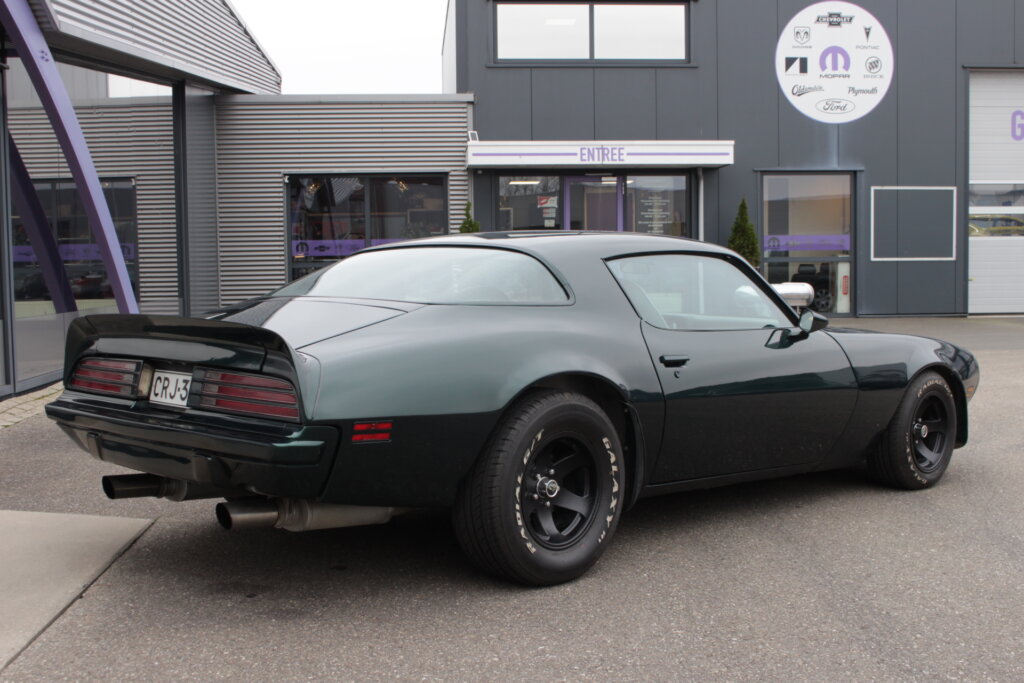 Unique Pontiac Firebird Formula Pro Street Racer with Custom build 455 Blower setup!
The car:
For this build they used a 1975 Pontiac Formula, and changed it into a 1973 Formula by swapping the front nose, this is being done a lot, as many people think the 1973 front end is the best looking one! After this they have built an amazing engine based on a new short block. This engine is custom build with the best parts possible, and has a BDS Blower & injection setup that in total makes around 800HP, this car is very fast and a lot fun to drive! The interior of the car is custom-made, with white and green vinyl seat covers and door panels covered in the same vinyl. And the roof and other moldings are also in the same color, there is an extra RPM meter installed, and has a center console with a B&M Shifter in it, and a line lock control knob. The car is clean and fresh on the inside! Currently, the paint of the car isn't the best, but is still a nice driver quality paint, we have intentions to repaint the car. But because of the many other things to do in our shop, it is waiting for a gap in the timetable to do this.
The Drivetrain:
It all starts with a Melleti MR1 new 455 engine block and an Eagle billet crank en H beam setup to build a strong 455 engine. They have ARP Studs and parts where it was needed, the engine is build with Pontiac's Specialist Kauffman parts, and Edelbrock RPM heads, to achieve the best performance. They have used a Comp camps Golden Series Roller rocker setup to control the valves and springs. This engine is dyno tested and tuned, it runs perfectly and screams very impressive! This engine has a lot of torque and power! The Transmission is a TH400 with a Transgo shift kit, the transmission is also tuned to handle the horsepower very well. It is a 3-speed transmission, that shifts very fast and works good. The rear axle is a Pontiac 10 Bolt rear axle, with a street gearing, that handles the performance more than well. The car comes with a set of street tires and wheels, and a set of race tires and lightweight wheels.
Extra Options:
- They made a custom 3-Inch Exhaust system for this car with electric cutouts.
- The Car has front Disc brakes
- The car has a race fuel cell in the trunk, and the battery is also located in the trunk.
- We are currently converting the car to electric brakes & and a new headers exhaust system.
The car comes with Dutch Registration! We can trade in your current classic car or modern car, please ask our sales department for more information.
Bucket seats
Console
Floor console
Floor shifter
Front spoiler
In dash tacho
Power steering
Rear spoiler
Engine type
 455 Pontiac

MR1 New Block

Melleti

Engine size
 7.5 Liters
Estimated Horsepower
 800HP
Heads
 Edelbrock
Carburetor
Blower Injection
Intake
Blower Intake
Transmission Type
TH400
Transmission Spec
3 Speed
Front Suspension Type
Coil over Shocks
Rear Suspension Type
Leafsprings
Front Brakes
Disc brakes
Rear Brakes
Drum brakes
But if you like additional information then please contact our sales! If there are details on the car you want to change or add some personal details, we can assist you with that no problem!
- The car comes with Dutch Plates and EU import taxes paid and included
- All our cars are sold with complete service and inspection prior to delivery.
- On request, we can transport the car door to door worldwide!
-  For export outside EU or business to business price please contact our sales!
- While every reasonable effort is made to ensure the accuracy of this information, we are not responsible for any errors or omissions contained on these pages. Prices and info in online ad's or website might diver and are subjected to changes and or have mistakes in them. Please verify any information in question with PedalToTheMetal Holland / Europe. 
And keep in mind that, the car you're looking at here today, was also looked at by others yesterday. And we can only sell it once!
For Trading in your current classic car please contact our sales department.
1975 Pontiac Formula 455 Blower 800HP