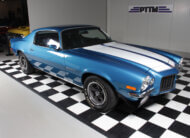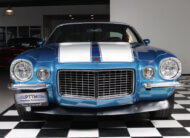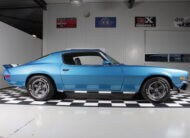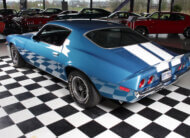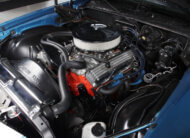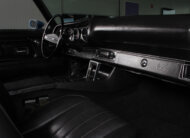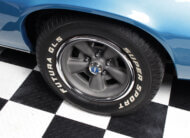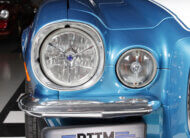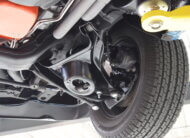 New in our showroom: 1971 Chevrolet Camaro RS Shark nose! 
This beautiful Shark nose Camaro has arrived in our showroom!
The car:
It's a 1971 Camaro with its gorgeous paint code 26 Mulsanne Blue Metallic paint and white stripes. The small block engine, with its aluminum polished valve covers and its chrome air cleaner, attached to a TH350 3 speed automatic transmission that is shifted trough gears with a center console shifter. The sound of this beauty is amazing because of its aftermarket installed headers and Flowmaster exhaust Mufflers. This Camaro is equipped with Power Disc brakes and Power steering. The engine is recently overhauled, and the transmissions is shifting good through the gears. The complete car is repainted a few years ago and is still in a great shine and state, the undercarriage is protected and finished in a few years old new black protection coating.
Most of the car is still in its original condition, like original wheels, like original trim and bumpers, the interior is mostly original, the steering wheel is the correct and original RS wheel, the car looks very clean and original. Great find by PTTM and offered for you. When it comes down to muscle cars from the early seventies, the Shark nose Camaro's were really hot, our 1971 Camaro is a true Rally sport optioned Camaro with the beautiful split bumpers.
Rally Sport:
The RS option (RPO Code Z22) continued for the second-generation Camaro, but without the stylish yet troublesome hideaway headlamps. Distinguishing the 1970+ RS from other Camaros was its unique front-end appearance with split bumpers, protruding snout with Endura grill surround and large European-style Parking lamps in the ''catwalk'' area of the header panel between the grille and headlamps. This trim and elegant front end was used trough 1973 and represents a high mark of Camaro's styling evolutions, Rally sports Camaro's received upgraded trim & blackout grille & RS Badges also and a chrome ring in the taillights as a small marker for these options, the extra price tag for a Z22 Code was 180$.
Would like to have more Horsepower? We can convert this car with a 502CIU big block or any other combination on request, currently we have a mean 502CIU engine on stock with 525 horsepower and an EFI Fuel Carburetor Holley Branded. Have a look at:
Option list:
RS Option Z22
Metallic Paint
Bucket seats
Power steering
Power Disc-brakes
White Stripes
Console
Sport Steering wheel
Rally Wheels
Dual Painted mirrors
Automatic Transmission
AM/FM Radio
Bucket seats
Console
Floor console
Floor shifter
Front spoiler
Power brakes
Power disc brakes
Power steering
Rally wheels
Rear spoiler
RS package
BODYWORK & TRIM:
Straight Body and Beautiful Medium Blue Metallic Paint, All the Original Chrome is polished and trim is cleaned to a showroom condition, the paint doesn't appear to have any dents or big scratches.
ENGINE:
Good running engine, that is checked by our crew and tuned by our crew, the Quadrajet Carburator and Electric Ignition system is adjusted to street applications.
DRIVETRAIN AND SUSPENSION:
The Transmission Shifts good trough the gears and the car brake fast, and the steering system is powered assisted.
INTERIOR:
This Original Black interior is looking nice because of its Buckets seats and Center Console shifter, round Sporty gauge cluster, it looks for an original car still very clean.
| | |
| --- | --- |
| Engine type |     Smallblock |
| Engine size |      305 |
| Estimated Horsepower |      300 |
| Heads |      Stock |
| Carburetor |   Quadrajet Stock |
| Intake |   Edelbrock Alu |
| Transmission Type |   Automatic |
| Transmission Spec |  TH350 3 Speed |
| Front Suspension Type |  Coil of Shocks |
| Rear Suspension Type |  Leafsprings |
| Front Brakes |  Disc brakes |
| Rear Brakes |  HD Drumes |
But if you like additional information then please contact our sales! If there are details on the car you want to change or add some personal details, we can assist you with that no problem!
- The car comes with US title and EU import taxes paid and included
- All our cars are sold with complete service and inspection prior to delivery.
- On request, we can transport the car door to door worldwide!
- On request we can also sell the car with Dutch plates or assist with TUV (H)
-  For export outside EU or business to business price please contact our sales!
- While every reasonable effort is made to ensure the accuracy of this information, we are not responsible for any errors or omissions contained on these pages. Prices and info in online ad's or website might diver and are subjected to changes and or have mistakes in them. Please verify any information in question with PedalToTheMetal Holland / Europe. 
And keep in mind that, the car you're looking at here today, was also looked at by others yesterday. And we can only sell it once!
1971 Chevrolet Camaro RS Shark nose