2023 Dodge Charger Super Bee "Last call"
€ 145000
21% VAT 119,835 NET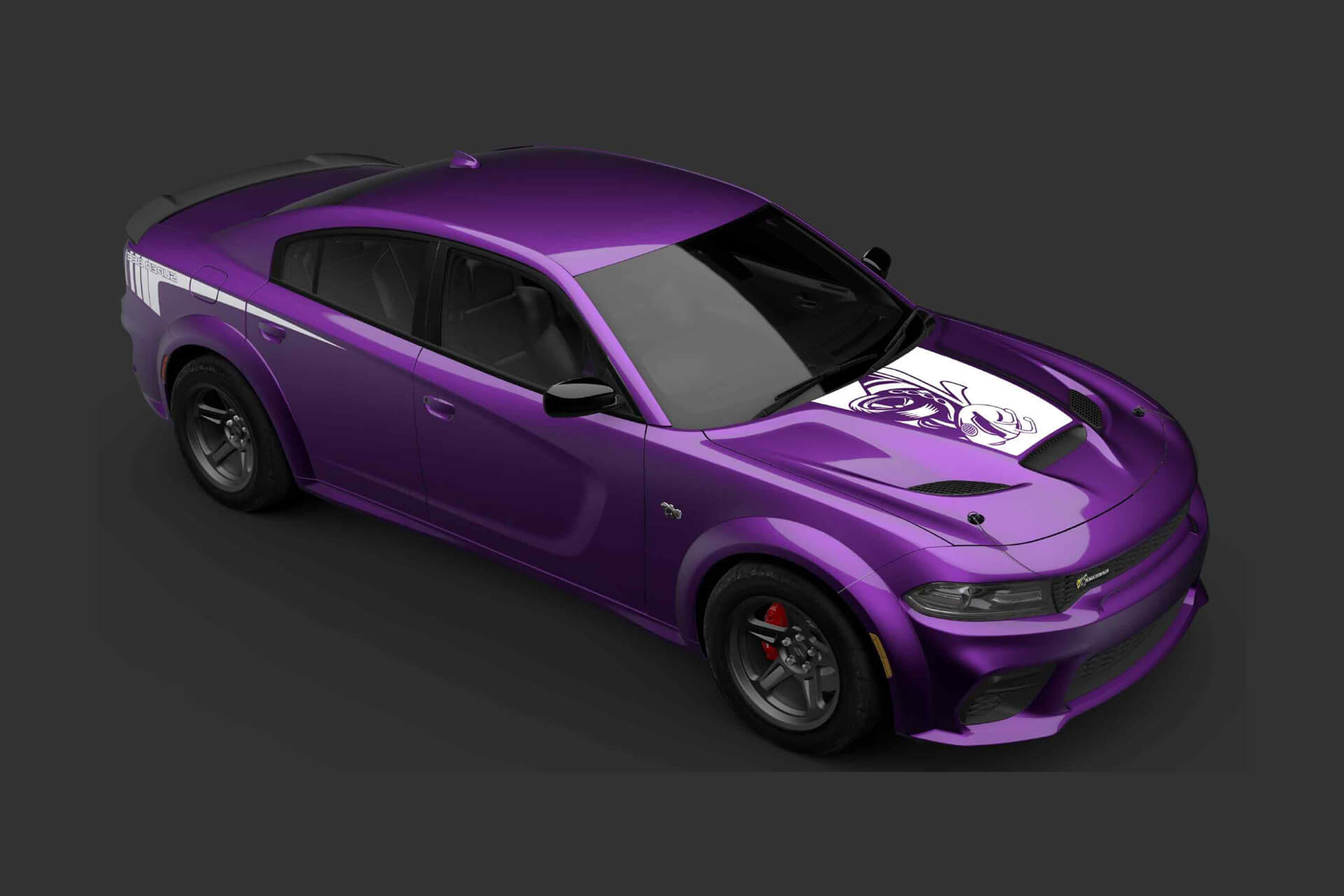 2023 Dodge Charger Super Bee "Last call"
The car
Dodge has just unveiled its second of seven special-edition "Last Call" models. The original Super Bee debuted on the sporty Coronet as a back-to-basics low-content, high-horsepower, go-fast package. In 1971, the package debuted on the Charger for a single model year, before being brought back in 2007 to 2009 and again for the 2012 to 2014 model years.
This time, the 2023 Dodge Charger Super Bee aims to be the highest-performing Charger Super Bee model ever produced. With standard drag radials that will help the Super Bee "fly" to low 1/4-mile ETs, special Super Bee badges, and graphics to help make the package stand out on the strip and the street. According to Dodge, they will only produce 1,000 units in total of the Super Bee package for the 2023 model year. This includes 500 units based on the Charger Scat Pack in B5 Blue and 500 units of the Charger Scat Pack Widebody in Plum Crazy.
Both packages take bits and pieces from the drag-racing-oriented Challenger R/T Scat Pack 1320 and Challenger SRT Super Stock package and put them on the Charger for the first time. All cars will be equipped with the Plus Group and Carbon/Suede Package content. To make them different than the rest of the swarm, the 2023 Dodge Charger Super Bee includes the following equipment…
Super Bee Exterior Badging on Grille and Front Fenders

Super Bee Exterior Graphics on Functional Hood Scoop/Rear Fenders (Blue Graphics on non-Widebody, White Graphics on Widebody)

20-Inch x 9.5-Inch Forged/Painted Aluminum Wheels with 275/40R20 102Y Drag Radial Tires (non-Widebody)

18-Inch x 11-Inch Aluminum Wheels with P315/40R18 102W Drag Radial Tires (Widebody)

Adaptive Damping Suspension with Drag Mode

Black Mopar Hood Pin Kit

SRT Hood with Functional Scoop and Dual Heat Extractors

SRT Black Exhaust Tips

Red Four-Piston Brembo Brake System

Super Bee Interior Instrument Panel (I/P) Badge

Super Bee Seat Back Logos
Keep in mind that you will not be able to order a Super Bee. Instead, Dodge will allocate the cars to specific dealers with pricing and dealer information shared on DodgeGarage.com at a later time. The car also has a widebody!
Engine
Dodge is bringing out the big guns for the 2023 Dodge Charger Super Bee, and by big guns we mean the legendary 6.4-liter 392 HEMI V8 powerplant that is paired with an eight-speed automatic gearbox. If this is the last call before shifting to electric, Dodge is going out with a bang; the V8 engine runs on the power of 485 horses, with 475 lb-ft of torque, and pushes the car to 60 mph in around 4.2 seconds. The Super Bee is equipped with a set of Brembo four-piston high-performance disc brakes with red calipers which will offer the driver a smoother, stronger, and faster braking response. The car comes with a 8-speed automatic gearbox.
Interior
The interior will feature a Super Bee-inspired interior trim, Super Bee-styled instrument panel, and Super Bee-embossed seats. Apart from these, both the interior and exterior will carry "Last Call", "Assembled In Brampton" and "Designed In Auburn Hills" aluminum plaques meant to celebrate the Charger's iconic status and origin.
Overall
These cars will be special, these are the last of the line with a combustion engine. The next line of cars will be fully electric. So that makes these cars even more special. The last special edition combustion engine car of the modern muscle cars. That makes these cars already really wanted, but we think they will be even more special in 20 years or so. And the car also has a wide body!
Optionlist:
LDDR48: Charger Scat Pack
21V: Scat Pack Widebody -21V
ESG: 6.4L V8 SRT HEMI MDS Engine
DFK: 8-Spd Auto 8HP70 Transmission
PHG: Plum Crazy Pearl Coat
APA: Monotone Paint
*TH Super Bee Nappa/Alcantara Seats
-X9: Black
NAA: Federal Emissions
AMN: Navigation & Travel Group
AFY: Carbon/Suede Interior Package
ADG: Technology Group
ACE: Super Bee Special Edition
AAY: Plus Groep
4UQ: T3AC
4NU: Fuel Fill/Battery Charge
YGF: 8 Additional Gallons of Gas
4EX: Sales Tracking
Comes with US title & import taxes paid. There is only coming one of these Super Bee's "Last call" to PTTM, so be quick! Contact [email protected] for more information!