1971 Plymouth Cuda 440-6 with shaker hood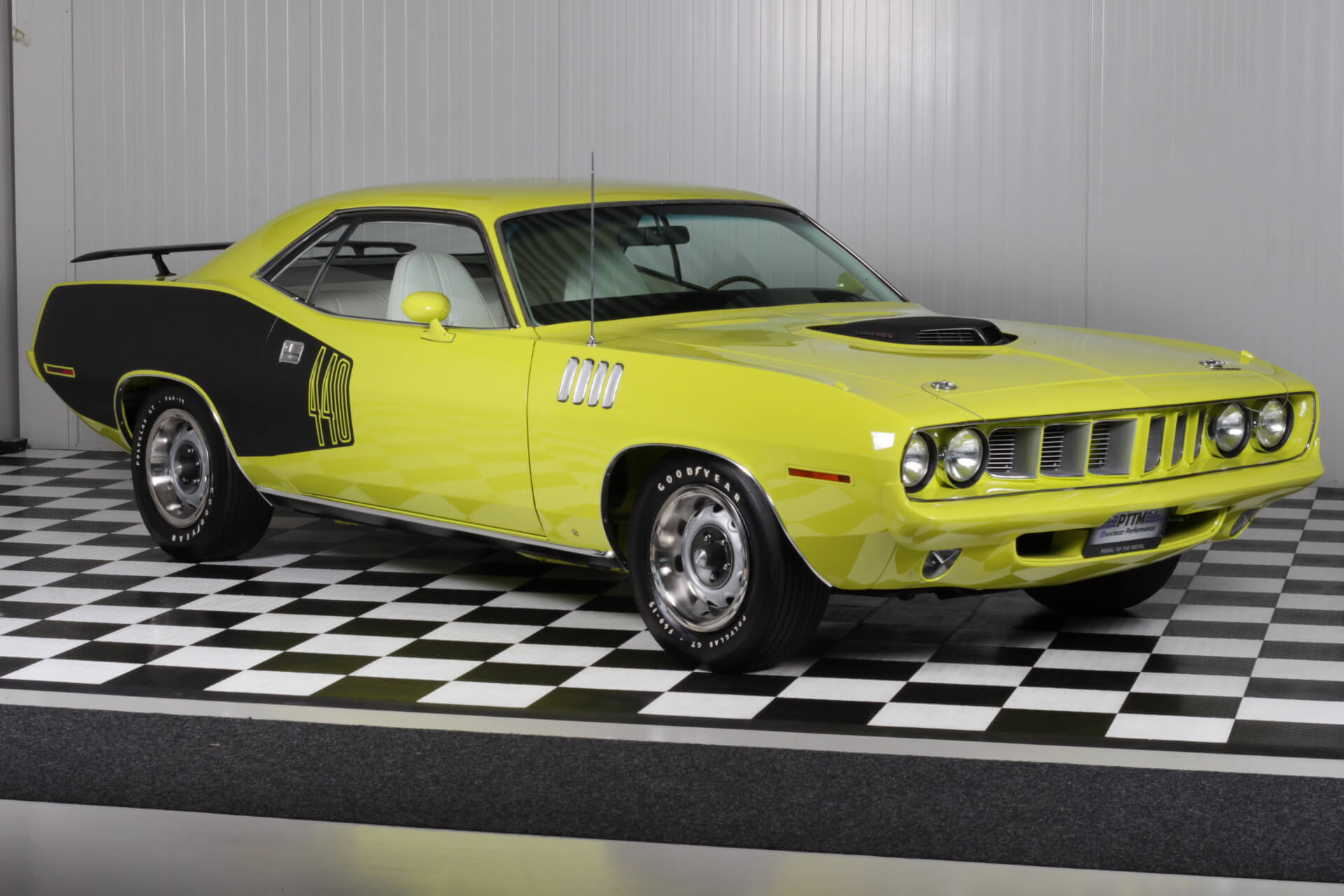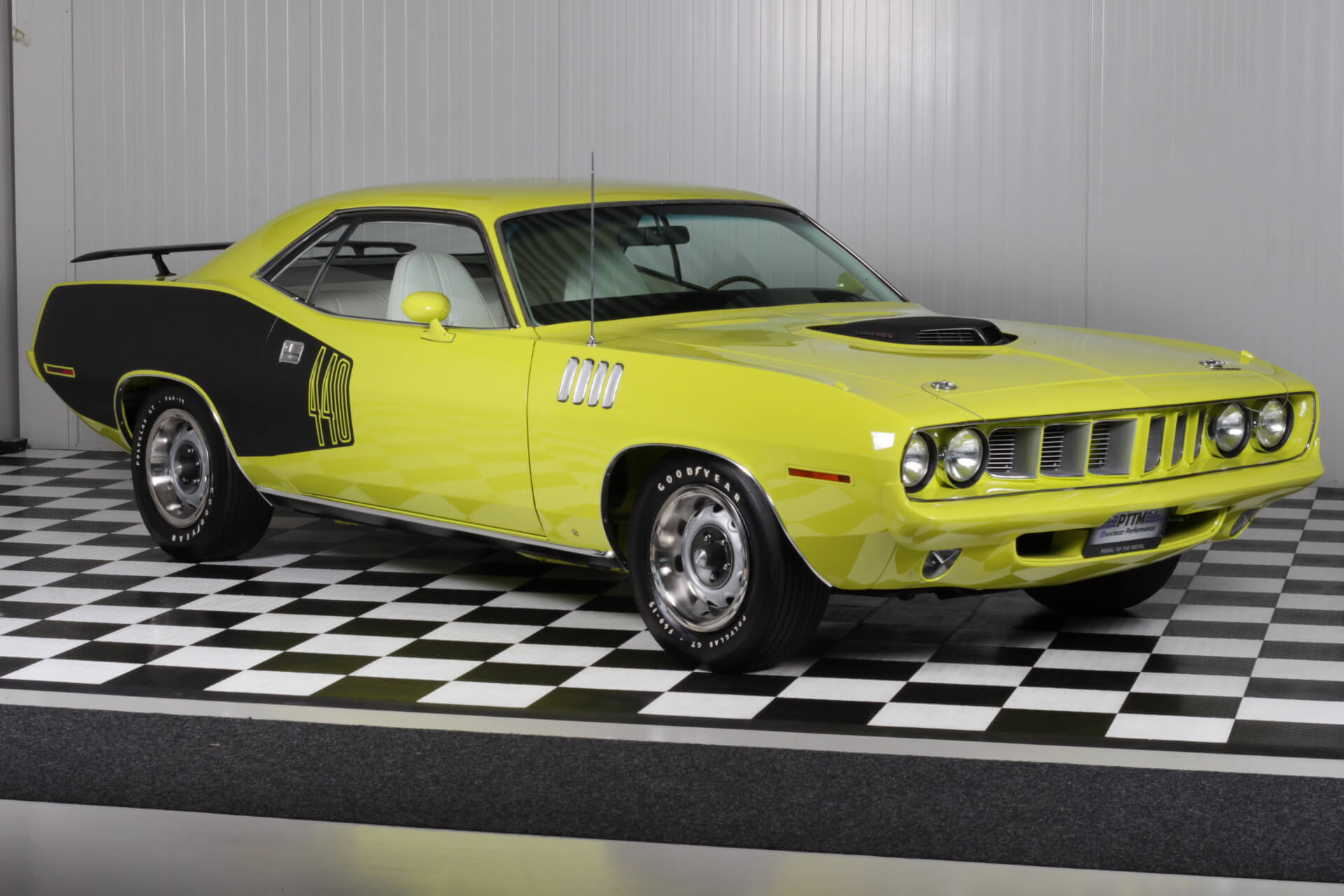 1971 Plymouth Cuda 440-6 pack with shaker hood & Rally Dash.
Real deal all matching number 1971 Plymouth Cuda 440-6 pack Shaker and in as new condition. The car has all the correct body & drivetrain vin's.
Very rare and highly collectible/wanted, it is one of only 1 of 129 ever build V code automatic 71 Cuda's ever and in this color and options combination maybe even a real, one of one car and a rare collector car. It is completely restored, highly detailed and spotless.
The car
It is loaded with options, and it is a true shaker & rally dash car. Everything on the car is factory original, from the correct rally wheels to the special shaker hood, interior, factory original color and so on. The body, floors, and chassis are all in great rust-free, all original unmolested or welded shape and the paint has a fantastic shine! The chrome and all glass are original as well. The car comes with its factory fender tag, correct body and engines and transmission vin codes to prove its pedigree and originality. 
The car is an original J81 Wing car! What means, its factory ordered with the rear wing! Beautiful and rare factory high impact color combination, you need to see this color with your own eyes. The underside of the car is very clean and painted just as nice as the topside and every detail is new, restored or rebuild there as well. Rebuild and highly detailed engine and rebuild the transmission, brakes, steering, wiring etc.
No rust whatsoever and drives and handles very good. It is a great investment for your money and pleasure! You can't restore one for less! Let alone find a great and real correct V code Cuda and more than 125k was invested in the restoration alone. With Hemi Cuda's selling for millions, this car is a steal, seeing it was faster on the tracks than its HEMI brother! Super solid investment. We have done an inspection on all the numbers of this car to prove the "Numbers are matching'' there a some pictures in the gallery where you can see this and here below we will explain them better.

Mr.Mopar
In the pictures there is a document from the Registry, and it appears that this Cuda with all the combinations is only one of one, and only 1 of 237 of Cuda's with a 440 Sixpack of 71. And only of 1 of 129 with automatic transmission and only 1 of 25 with the G3Y color combination. And one of one with all the above and white interior! This Cuda is really rare! 
The Cuda is part of a US-spec promotion Cuda's. And 21 of these cars were built for dealers around America. These cars were equipped very similar with 440+6 engine, automatic transmission, and all cars were heavily optioned including shaker, billboard stripes, front and rear spoiler & rear louvers. All painted in GY3 Curious Yellow. 
The Numbers:
The Cowl Partial VIN number is original and still present
The Radiator Support Partian VIN number is original and still present
The Engine Partial VIN number is original and still present
The Engine Casting date is 17-Juli-1970 what is correct
The Engine Assembly Date  is 31 August and Model year indicator code G presents 1970 what is correct
The Transmission PK numbers is: 3515850 What is correct for the 1971-440-6 Cars
The Assembly date of the Transmission is 3324 what stands for 3 September 1970
The Year code indicator of the transmission is 70 and there are 8 boxes checked what mean the transmission should have been build in September.
The Fendertag of this car is original and not a remake.
The car comes with 1 set of wheels of your choice, 1 set is 15 inch rally wheels with original looking Goodyear polyglas tires and 1 set is the current Aluminium 15 inch Magnum 500 wheels with new BF Goodrich tires, we mounted them as they are more safe to drive, the other set is more original and correct looking.
It is very rare that all these numbers are still original and matching. How many are there still left like this car? Only a few!?
A real collector's car! 
The car is in our showroom and comes with Dutch Registration and EU import taxes all paid
It is fully serviced and inspected and has no flaws.
The fender tag decoded list, you can find that in Technical Specification tab.
15-inch Rally style wheels
8 3/4 Rear Axle
AM/FM Radio
Bucket seats
Console
Deluxe interior
Floor shifter
In dash tacho
Rally wheels
Rear spoiler
Wheel trim molding
| | |
| --- | --- |
| Engine type |    Mopar Bigblock |
| Engine size |    7.2 Liter |
| Estimated Horsepower |     395 HP |
| Heads |     Stock steal |
| Carburetor |   6 pack setup |
| Intake |   6 pack original |
| Transmission Type |   Automatic |
| Transmission Spec |   3 speed |
| Front Suspension Type |   Torsion bars |
| Rear Suspension Type |   Leafsprings |
| Front Brakes |   Drum Brakes |
| Rear Brakes |   Drum Brakes |
Decoding of Fender Tag: Botttom to Top, Left to Right
Code
Description
E87
440-6 Barrel High Preformance
D32
H-D A-727 TorqueFlite Trans / Some Years A-998
BS23

B = Plymouth Barracuda

S = Special

23 = 2 Door Hardtop

V1B

V = 440 385HP 3-2BBL 8 CYL

1 = 1971

B = Dodge Main, Hamtramck, MI, USA

213920
Sequence Number '213920'
GY3

Paint Code: Citra Yella

H6XW

Trim Grade/Style/Color

H = High

6 = Vinyl Bucket Seats

X = Black

000
Upper Door Frame: Full Door Panel
B13
Date Built: 11 / 13 / 1970
000703
Order Number: 000703
GY3
Roof Type OR Color:  Citra Yella
U
Built to Specifications for USA Order
A01
Light Package
A36
3.55:1 High Preformence Axle Package
A62
Rallye Instrument Cluster
C16
Console w/ Buckets
C55
Bucket Seats
G36
Left Hand Remote, Right Hand Manual Outside Mirror
J25
3 Speed Variable Wipers
J45
Hood Tie Down Pins
J81
Rear Spoiler - Wing Type 70-2
L25
Trunk Compartment Light
M21
Roof Drip Rail Moldings
M25
Wide Sill Molding
M31
Belt & Hood Molding
M88
Quater Panel Tape Treatment
N41
Duel Exhaust w/o Tips
N42
Chrome Duel Exhaust Tips
N85
Tachometer
N96
Fresh Air Hood
R11
Music Master Radio AM
26
26 in. Radiator
EN2
End of Codes Assembly Line 2
But if you like additional information then please contact our sales! If there are details on the car you want to change or add some personal details, we can assist you with that no problem!
- The car comes with Dutch Registration and EU import taxes paid and included
- All our cars are sold with complete service and inspection prior to delivery.
- On request, we can transport the car door to door worldwide!
- On request we can also sell the car with Dutch plates or assist with TUV (H)
-  For export outside EU or business to business price please contact our sales!
- While every reasonable effort is made to ensure the accuracy of this information, we are not responsible for any errors or omissions contained on these pages. Prices and info in online ad's or website might diver and are subjected to changes and or have mistakes in them. Please verify any information in question with PedalToTheMetal Holland / Europe. 
And keep in mind that, the car you're looking at here today, was also looked at by others yesterday. And we can only sell it once!
For Trading in your current classic car please contact our sales department.