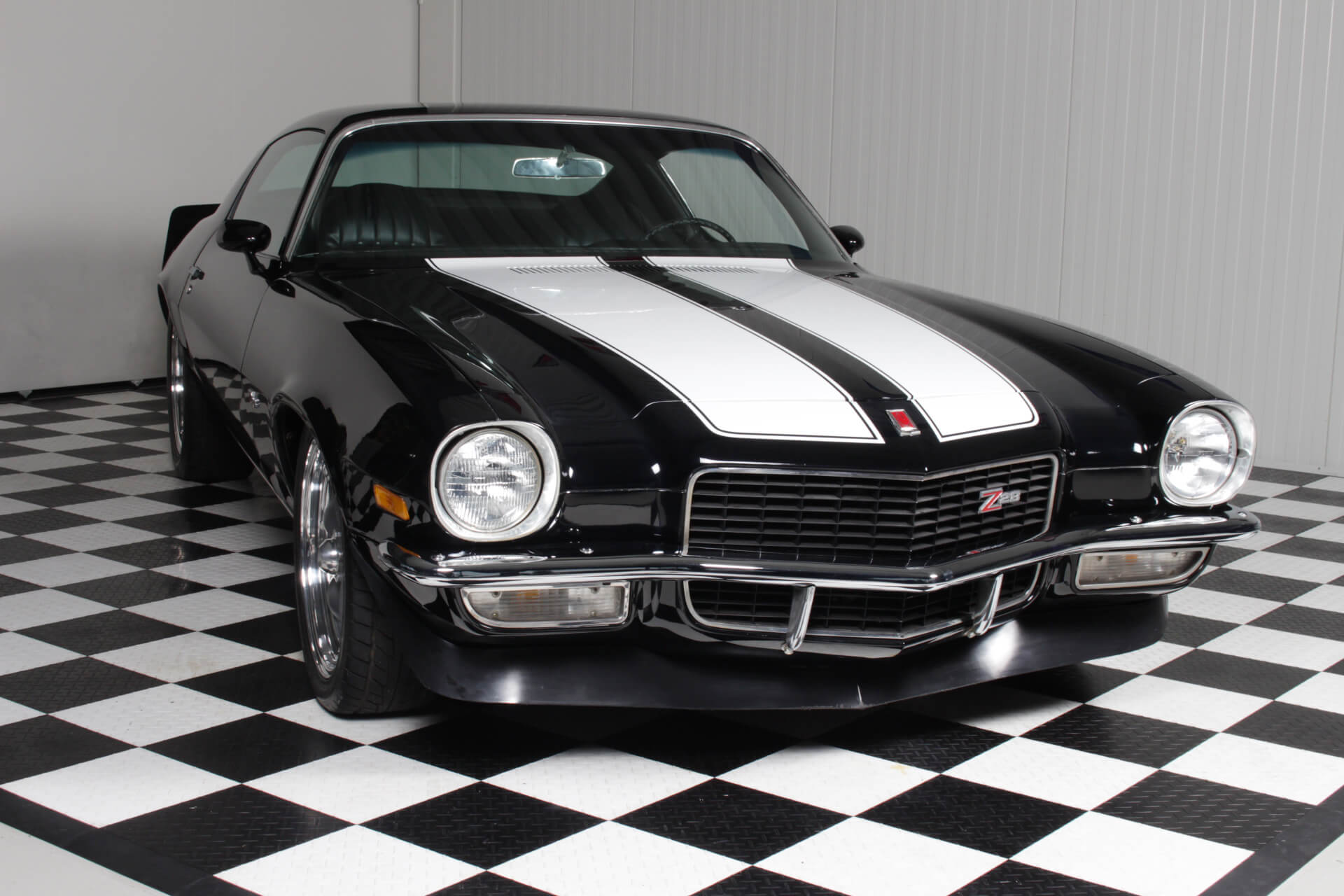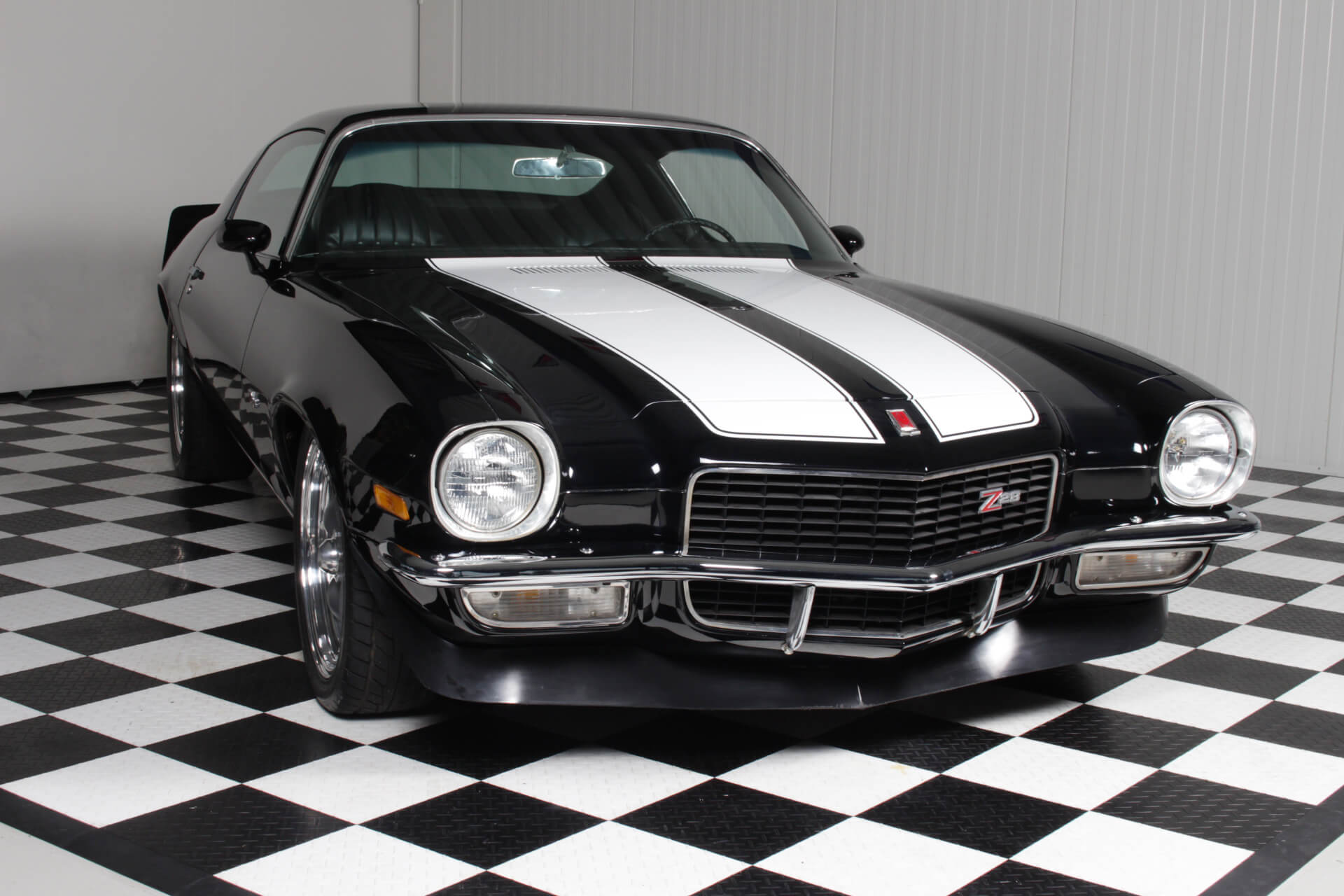 IN OUR SHOWROOM NOW!
This hot 1971 Chevy Camaro with Z28 badging, and it's fresh build 400cui (6600 cc) Performance V8 and manual Muncie 4-speed transmission in the best color around black with white stripes was build from scratch and is now transformed into a great Pro touring style muscle car.
The car was completely dissembled and the body and chassis and all its components were sandblasted to the bare metal, before the rebuild and restoration was started. Te body was already very solid and original to start with, and not many works were needed to its structure. This car is very solid and completely rust free. The goal was to build a fresh and as new car that was correct and original looking Camaro Z28. But to upgrade with a more modern and reliable engine with fuel injection and a manual 4 speed trans for getting the most power possible to the rear axle and better performance. So everything you see here is either new or rebuild or restored to as new condition.
The car is painted in Georges deep black paint that has a great shine, and all the suspension and steering components were also repainted or coated. The SS/Z28 stripes are also painted and make the car really stand out. Once that was completed the car was build back up with only new parts and components and no costs were spared to make this beast in to a real beauty. When it was completed it was only driven around 100 test miles to take out all the bugs and little problems that just come with any good restoration and now the car is turn-key ready to be enjoyed.
The second generation Camaro's are amongst the best driving classic muscle cars together with its sister car, the Pontiac Firebird. Their all new design back in 1970 was really fresh and stylish. The car was much more a sporty coupe than its predecessors and the gorgeous  and aggressive styled front end got the car its nickname "Shark tooth". The tail was also much sleeker and with the 4 round taillights the Chevy design department really looked back on their pedigree as it's a feature also found on previous year's Corvette's. The interior was also unique and much more spacey than the Gen 1 cars and just more comfortable. Its airplane style dashboard with many gauges to monitor the engine was also a great feature.
All in all it was a direct hit and although the fuel crisis of the 70s really meant the end for the true Muscle cars, Chevy kept the Chevy Camaro alive and up until 1981 this model was more or less unchanged when it was followed up by the Gen 3 cars. Up until today the name Camaro still lives on and stands for true muscle cars, today so even more than ever.
The car we present to you here is one of those Gen 2 car's and its heritage was preserved as much as possible, but only the engine was upgraded and some better handling, and steering components and some custom wheels were added to make the stand-out more. We believe the car was born as a real SS car, however without a build sheet you just can't proof that. But the car has a correct V8 Vin and all the SS components look original to the car. It's now equipped with Z28 badges, just because that name speaks even out more to the true performance car it is now.
The drivetrain of this beauty is as new and the engine is a hidden jewel of Chevy's engine designs as this is the biggest Cui V8 Sb they produced. This 400 Cubic inch motor (6,6 liter) is light and very powerful as it was rebuilt and upgraded with all new internals, a better high lift cam, a performance alu intake and 4bbl carb, electronic ignition and a nice set of shorty headers to top things off, so it can breathe much better than with the restrictive original manifolds. The block is also one of the strongest around. It makes great power and more important it has great torque!
This, combined that it's hooked up to a Muncie manual trans that was also rebuild and has a new clutch and pressure plate, makes this car a genuine muscle car and so much fun to drive. As you will know, a Manual trans car just brings up to 30% more power to the rear end as any automatic car. The engine bay was also correctly detailed and freshly painted, and a new radiator was installed to keep things cool, even on the hottest of summer days. A correct style dual snorkle air intake was also installed to make the car look correct under the hood.
The complete interior was also restored and fitted with all new seats, upholstery, new carpets, headliner and door panels and a floor shifter with console!. The dash is a factory rally dash (Z28 style) with factory tacho build inn. All in all a very comfortable and stylish original interior, and it all looks really fresh and clean. Wow! What a great-looking classic this is!
The underside and trunk area are also detailed and correct for the car and all looks in great condition with new suspension, steering and brake components. The car is also equipped with front and rear Z28 style front and rear sway bars and a set of subframe connectors to make the body more rigid and handle better in cornering. Of course, the car has power steering and power front disc brakes with a brand-new main brake booster and master cylinder.
All in all the car turned out pretty amazing. The classic style 18 inch American racing alu wheels with wide performance tires finish the great look and stance of the car. The car handles and drives like a dream and combines the best of both worlds in handling and performance. We estimate more than 80k was invested in the build alone, and that's without the 40k a good original 71 V8 Camaro would set you back for these days. So for the price we ask you couldn't build it yourself even if you wanted to. You just can't compare this car with just any Camaro for sale as it's truly rebuild and everything is in amazing condition and its paint job is also high end. There are many old and worn Camaro's for sale for less, but if you want an all done, quality car, this might well be the car for you!
All in all what we present to you here is a great and classic looking 71' Camaro "Z28", in a great color combination and with an awesome stance and overall appearance. It's a perfect combination of original looks combined with some more modern, but still correct styled details and upgrades. The engine itself is also a real jewel and although powerful it's not too extreme, and it runs very smooth and is very reliable as well. There is just nothing that beats a classic, well tuned, beast like this 6600 cc, Chevy SB.
For its asking price you just can't' ever build it yourself even if you would, and you won't find a more nice, clean and honest car that's as new inside and out for sure. Just a stunning, high-quality car that's now for sale for a fraction of the costs to buy and build it.
Would like to have more Horsepower? We can convert this car with a 502CIU big block or any other combination on request, currently we have a mean 502CIU engine on stock with 525 Horsepower and an EFI Fuel Carburetor Holley Branded. Have a look at:
Some of the cars long list of additional options :
- Performance V8 400/400HP engine
- Front disc brakes.
- Tinted windows!
- Stereo system.
- Subframe connectors.
- Factory tacho.
- Performance suspension system.
- Power steering.
- Front Z28 spoiler.
- Rear Z28 spoiler.
- Custom new billet alu wheels.
- Sports steering wheel
- Bucket seats
- Painted rally mirrors
- Floor shifter with console.
- SS stripes.
- Z28 badges
And more!
| | |
| --- | --- |
| Engine type |  V8 |
| Engine size | 400cui ( 6600cc) |
| Estimated Horsepower | 400+/- |
| Heads | Chevrolet |
| Carburetor | 4bbl |
| Intake | Alu 4bbl |
| Transmission Type | Manual |
| Transmission Spec | 4-Speed |
| Front Suspension Type | Coil over |
| Rear Suspension Type | Leafs |
| Front Brakes | Discs |
| Rear Brakes | Drums |
| | |
| --- | --- |
| Miscellaneous | As with all our high-quality cars, this Camaro is completely serviced and checked before it enters our showroom floor! It is turnkey and not a project or a car that needs work. The complete car, engine, transmission and all brakes, electrics, fuel system and steering system are rebuilt and turn key ready to be enjoyed. |
But if you like additional information then please contact our sales! If there are details on the car you want to change or add some personal details, we can assist you with that no problem!
- The car comes with US title and EU import taxes paid and included
- All our cars are sold with complete service and inspection prior to delivery.
- On request, we can transport the car door to door worldwide!
- On request we can also sell the car with Dutch plates or assist with TUV (H) 
-  For export outside EU or business to business price please contact our sales!
- While every reasonable effort is made to ensure the accuracy of this information, we are not responsible for any errors or omissions contained on these pages. Prices and info in online ad's or website might diver and are subjected to changes and or have mistakes in them. Please verify any information in question with PedalToTheMetal Holland / Europe. 
And keep in mind that, the car you're looking at here today, was also looked at by others yesterday. And we can only sell it once!