1971 Dodge Challenger RT 340 automatic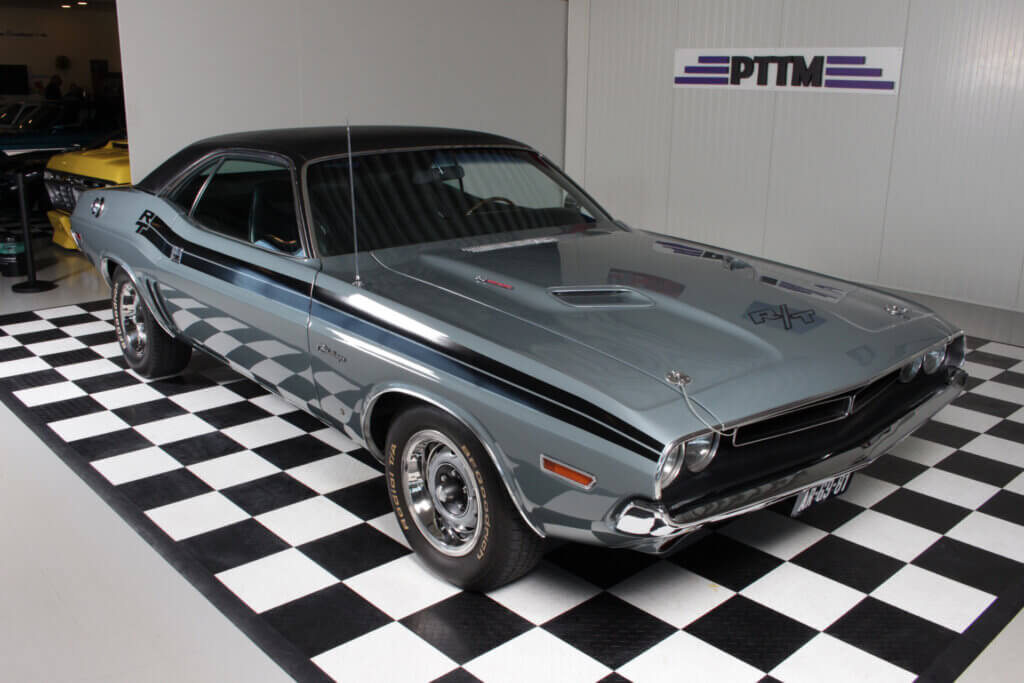 Rare 71 Challenger RT 340 Automatic with 2 build sheets, fender tag and matching Engine.
This Challenger we found it locally, the previous owner was a real Mopar enthusiast, and loved the Challenger 340 because it was a lightweight engine, with enough horsepower, the handling is great of  this light car he said.
The car:
Its a real JS code RT challenger with its 340 engine and automatic transmissions, it comes in the stunning looking Gun Metal Gray color what is original for this Challenger. The car has RT stripes on the side and RT decal on the hood. All the option this car came with we can verify on the Build sheet and fender tag, the car imported to The Netherlands in 2014 where the owner found it in the USA and imported it through an agent. When he received the car he maintained the car very well, and stored the car in a nice garage in his own farm, where the car was stored dry and safe. The owner only drove the car with nice weather and in the summer, the car has 36868 Miles on the car and the last Title says its ''Actual'' so it could be that is original.
The car his paint is nice, and shines well, the chrome and trim are polished and are looking fresh. The interior is mostly original and in clean and good condition, the undercarriage of the complete car is protected with a newer rust protection coating, it was originally protected with the Thick black coating, but the previous owner didn't like that, we agree on that, you can't see what is under it. And now it's protected with a fresh thinner coating that also preserves the car well, we inspected the car its sheet metal, and we think it has all its original sheet metal, only the lower inner quarters are changed or repaired,
The Challenger is equipped with the 340 high Performance engine and had original around 250HP and 340 FT lbs of torque and a 3 speed 727 torqflite transmission and the 8 3/4 rear axle and new 3:23 Gears. The interior is luxury with its buckets seats, console, rally dashboard with tachometer and the wood grain steering wheel, the car drives well because it is equipped with power steering, and power disc brakes, and extra cooling package so all the hardware is there for a good cruise and a fast drive in the city.
We will technically upgrade the car, and do some cosmetically upgrades where needed, and will service the car with our incoming checklists, and will make sure it's fine-tuned before it will hit the showroom floor, when the car is sold it will be checked and serviced again.
The car comes with Dutch registration.
Option list from fender tag:
B51 Power brakes
C16 Console with Bucket seats
C55 Bucket seats
G11 Tinted Glass all
G33 Left hand outside Mirror
J25 3 Speed Variable Wipers
J45 Hood Tie Down Pins
J54 Sport Hood
M21 Rood Drip Moldings
N41 Dual Exhaust w/o tips
N42 Chrome Dual exhaust tips
N85 Tachometer
N95 NOX exhaust emission control
R11 Music Master AM Radio
R31 Dual rear speakers With R85
Extra options on Build sheet:
B41 Disc Brakes
S74 Power steering
S41 Rear Sway bar
S81 Simulated wood grain steering wheel
For any information about this car, please contact our sales Department. This car is already in our showroom, so it can being seen already.
15-inch Rally style wheels
Bucket seats
Console
Deluxe interior
Floor console
Floor shifter
In dash tacho
Power brakes
Power disc brakes
Power steering
Wheel trim molding
| | |
| --- | --- |
| Engine type | Chrysler |
| Engine size |  340 |
| Estimated Horsepower |  275 HP |
| Heads |  Stock 340     Heads |
| Carburetor |  Carter |
| Intake | Chrysler Performance |
| Transmission Type | Automatic 3 gear |
| Transmission Spec | 727 Torqflite |
| Front Suspension Type | Torsion bars |
| Rear Suspension Type | Leaf-spring |
| Front Brakes | Disc-Brakes |
| Rear Brakes | Drum-Brakes |
But if you like additional information then please contact our sales! If there are details on the car you want to change or add some personal details, we can assist you with that no problem!
- The car comes with Dutch Registration and EU import taxes paid and included
- All our cars are sold with complete service and inspection prior to delivery.
- On request, we can transport the car door to door worldwide!
- On request we can also sell the car with Dutch plates or assist with TUV (H)
-  For export outside EU or business to business price please contact our sales!
- While every reasonable effort is made to ensure the accuracy of this information, we are not responsible for any errors or omissions contained on these pages. Prices and info in online ad's or website might diver and are subjected to changes and or have mistakes in them. Please verify any information in question with PedalToTheMetal Holland / Europe. 
And keep in mind that, the car you're looking at here today, was also looked at by others yesterday. And we can only sell it once!