1970 Dodge Challenger RT 426 Pro Touring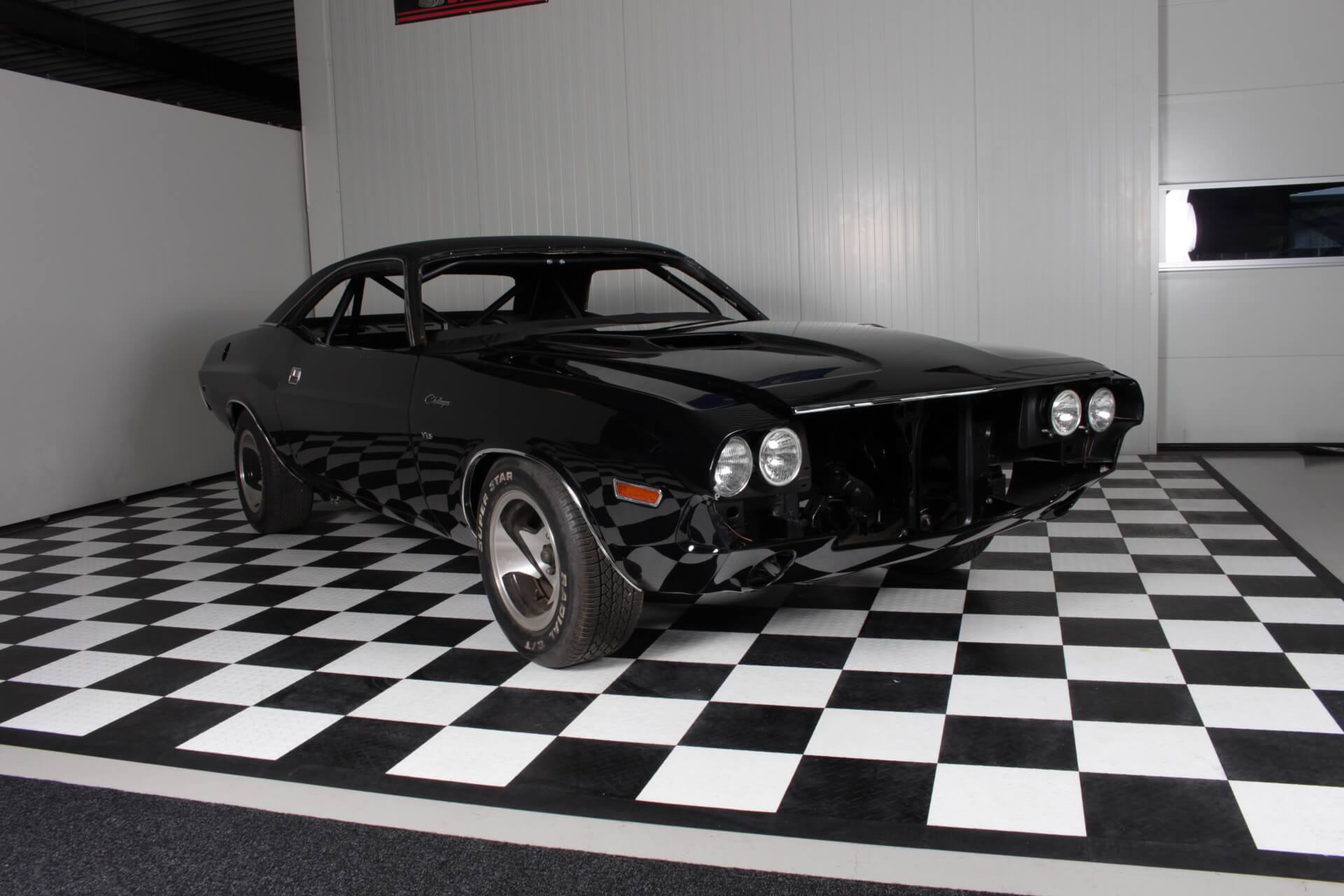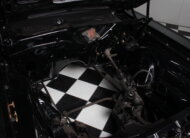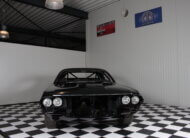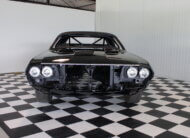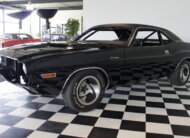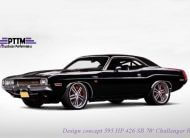 FOR SALE NOW:
This project is started, and is in the startup phase where we collect all the parts and prepare the build.
This stunning all new build,  triple black, 1970 Dodge Challenger "RT pro touring special " that will be build by PTTM and is going to be equipped with many special drivetrain components and an all new V8 engine with 600HP and a complete new drive line to name some.
The base car that was started with is a genuine V8 1970 Dodge challenger was completely dismantled, and it's body and chassis was blasted to the bare metal and all rust was removed with new panels and floor sections inside and out. The car's body and chassis are already freshly restored, and it's painted fresh in a stunning deep shine black paint. The car also has a new black vinyl top installed. The underside work has also started and the rear axle and its set up is done, weld in sub-frame connectors have been installed and a bolt in pro roll cage installed. So we are underway already.
This car will be build and completed to the highest possible quality standards and equipped with many special performance features and details that are almost too much to list here. So please contact our sales department if you want more information or details. The body is restored completely (rotisserie), is laser straight and solid and the paint on the car is plain stunning!
The complete drivetrain is being build as we speak, and we will continue to build to full completion of the car. However, as stated it's also for sale now, so you can follow the rest of the build, and we can still install and change personal details and functions.
The complete build of the car will be documented and invoices and manuals of all the components will be with the car once it's completed. The special engine is blue printed and dyno tested before it's installed in the car. The custom build transmission will also be blue printed and build sheets will come with both.
So if you are looking for a very special, one of a kind car, that is build professionally and is of the finest quality in parts and components and that brings old school together with the best of more modern day drivetrain and steering and handling, than this might well be the car for you. It's a really easy car to maintain and very reliable indeed. More sow even than any modern day engine that many people install in their build's these days, as there is almost no need for ton's of electronics and computers that normally break down sooner than any classic engines components!.
Besides that, we just feel a classic car is bought for fun and pleasure, and it's character, and a modern day engine just doesn't bring that. So that's why this beast will receive a proper build classic style engine, but with some more modern updates, so it will be the best of both worlds! No corners will be cut to make this car one of the best 1970s custom build Challengers in existence. We have specifically chosen NOT to install a modern day engine as that would not do justice to this car's classic charm, but we have chosen this "Mini-Hemi" engine and made sure it will be reliable by adding fuel injection and electronic MSD ignition systems for it.
However, the base engine will still be one of the best and most lightweight performance engines Chrysler ever developed, the famous 340 "mini-Hemi" performance engine. So its in fact very correct for this car as the were installed in the 1970 Challengers from the factory, and they were even used for racing in the famous Challenger T/A cars.
By stroking the engine and adding the right quality performance parts for it, we brought its base power of around 325 hp to close to double that. All internals are new from all new forged stroked crank, forged rod's, diamond custom-made pistons, and a set of high-performance famous B1 alu heads with the combination of a special grind camshaft and special oiling and cooling systems now makes a Whopping 600 hp and a monstrous 800 NM of torque! Just a great and very powerful high-winding engine, but also still very reliable and not build to the extreme. Its power, as stated, it's transformed to the rear axle by a 4 speed automatic transmission.
So when this car is completed it's a perfect combination of an original looking car on the outside, with a quality level that looks better than it ever left the factory with. Combined with the best engine and performance and handling parts, and a very comfortable interior with many stylish details and features. It just can't get any better than this. It's a true one of a kind car and its overall quality will be stunning. No, this car is not a cheap build, but we assure you that for its price you won't ever find a better or more exclusive and correct styled Muscle car. And you can follow the build and completion of this car in person as an added bonus!
The total build price of this car could variate between 125.000/200.000 euro depending on the choices we make together. Soon more pictures of the car, and its progress phase will be shown here, but you are also very welcome to come and see the car in person.  It will be in our showroom once it's completed, if you want information ahead, or make a reservation, please contact our sales! Just another stunning high-quality all new build car by PTTM. This project is for sale during its build that is already in progress, but you can still change or add any details to your personal liking, and follow its completion.
 Some of the car's planned components: (On request, we can change or add certain parts)
- NEW PTTM  build Chrysler 340 stroked to 426 Cubic inches and will be equipped with B1/BA alu performance heads, special internals, Holley sniper alu intake and electronic fuel injection system and the engine will be lightweight and perfect for this E body Dodge. It will bring 600 HP and 585 ft.lbs in torque (800 nm) The engine will have many other special details and special cooling system installed.
-NEW PTTM build Semi automatic 4 speed custom build performance transmission with manual or automatic shift options.
- Heavy duty Chrysler 8 3/4 inch rear axle with all new hi-po axles, lim.slip.diff and all new gears and bearings.
- 4-link, fully adjustable rear axle suspension with coil over Q1A shocks and a HD driveshaft with loop.
- Weld in sub frame connectors for additional body stiffness.
- New independent, fully adjustable coil over front suspension system and all new engine mount clip with new rack and pinion steering system and new billet steering column with tilt steering.
- 4 wheels slotted and drilled disc brakes, 13 inch rotors with 6 piston calipers up front  and 12 inch rotors at the back with 4 piston calipers at the back with hydro tech hydraulic power brake booster.
- Cleaned out engine bay (no wires and hoses in sight and an all new wire system front to back)
* Complete front to back dynamat anti-heat and sound isolation inside and out.
* All new custom build interior with deluxe bucket seats, floor console, custom designed dash, all new carpets and headliner.
* All new chrome, grill, taillights, emblems, striping, glass ( tinted), trim, bumpers, rubbers, seals, bearings etc.
* New custom fuel tank, with all new custom fuel lines and alu connectors
* Custom front to back new exhaust system and custom made headers with electronic cut-outs (open and close sounds)
* All new custom alu wheels with low profile, high speed tires.
* All new heat and air-condition systems by Vintage air.
* Custom stereo and navigation system and back up cam. 
And many more special features
| | |
| --- | --- |
| Engine type | V8 |
| Engine size | 426cui |
| Estimated Horsepower | 585hp and 800NM torque. |
| Heads | Alu B1 ported |
| Carburetor | Holley Sniper injection |
| Intake | Alu 4bbl |
| Transmission Type | |
| Transmission Spec | |
| Front Suspension Type | |
| Rear Suspension Type | |
| Front Brakes | Discs |
| Rear Brakes | Discs |
| | |
| --- | --- |
| Miscellaneous | See the ad for more info. Final pricing will depend on customer choices and details. Car is for sale now, but also when is completely finished. Price of all finished car or build with your private details can be requested via our sales office. |
But if you like additional information then please contact our sales! If there are details on the car you want to change or add some personal details, we can assist you with that no problem!
- The car comes with US title and EU import taxes paid and included
- All our cars are sold with complete service and inspection prior to delivery.
- On request, we can transport the car door to door worldwide!
- On request we can also sell the car with Dutch plates or assist with TUV (H)
-  For export outside EU or business to business price please contact our sales!
- While every reasonable effort is made to ensure the accuracy of this information, we are not responsible for any errors or omissions contained on these pages. Prices and info in online ad's or website might diver and are subjected to changes and or have mistakes in them. Please verify any information in question with PedalToTheMetal Holland / Europe. 
And keep in mind that, the car you're looking at here today, was also looked at by others yesterday. And we can only sell it once!