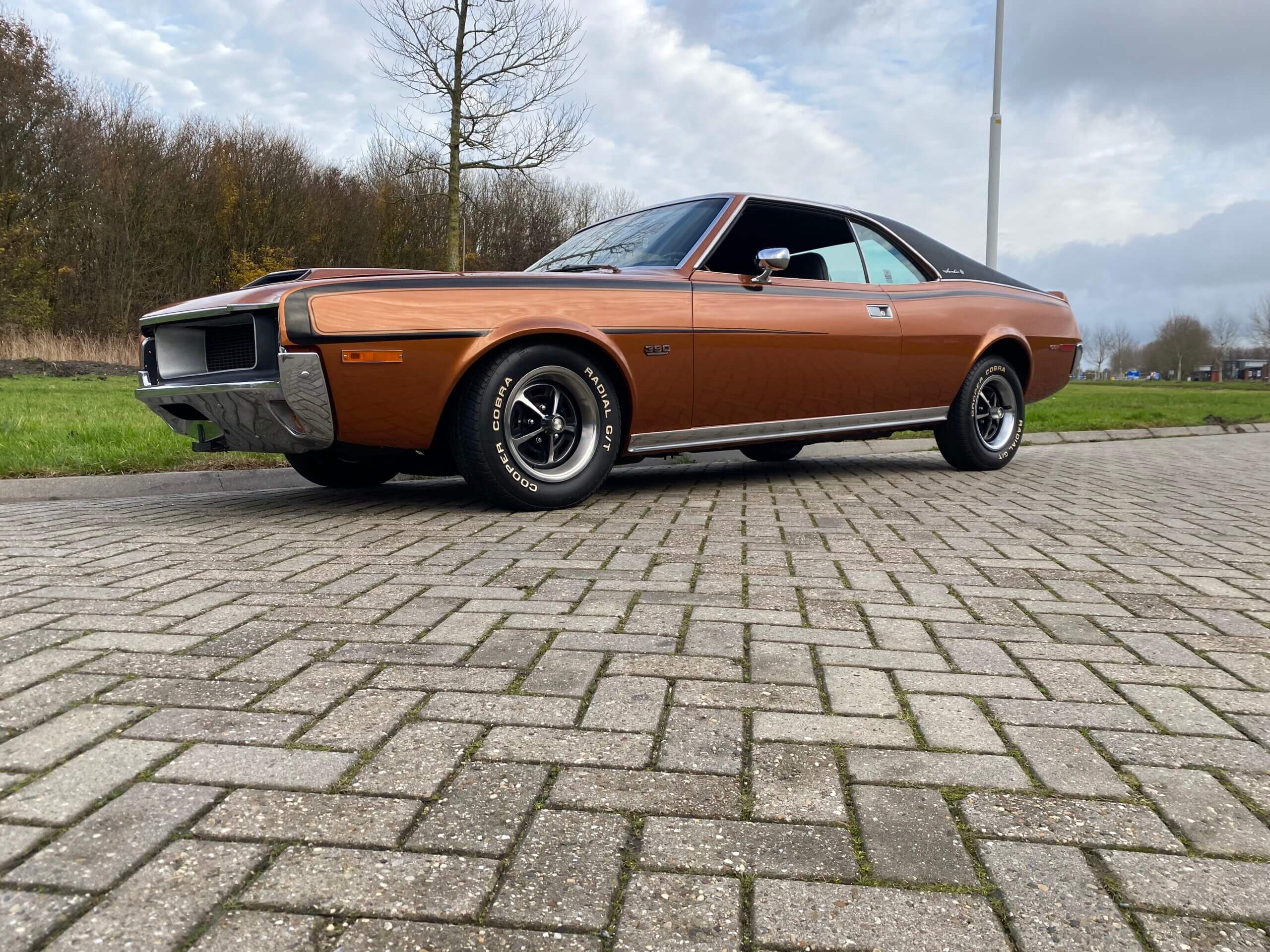 1970 AMC Javelin Mark Donohue edition.
The AMC Javelin is a real Pony car!
History
AMC wanted to compete with the Ford Mustang, also a Pony car. In 1969, AMC approached the team of Mark Donohue. Mark Donohue is an American Formula 1 driver who later died in Austria in 1975. AMC was already racing with the Javelin, and competed with the Trans-ams in the early 70s. With Donohue's assistance, they added a large back spoiler inspired by the Camaro. This is how the Javelin Mark Donohue edition was born.
AMC had renewed the Javelin for the 1970 season, making it look more like the AMX. All the characteristics of the improved SST upholstery remained the same, but the grille was black. Visual characteristic that distinguished the basic SST from the Donohue editions were the Ram Air bonnet, side lines, front spoiler and, of course, the one-piece 'ducktail' spoiler mounted on the boot of the car
They build 2501 Mark Donohue's divided in 360 and 390 engine setups. According to factory ads announcing the model, the Mark Donohue signature-edition SST was available with either a 360- or 390-cu.in. engine, each equipped with a four-barrel carburetor, and made 290 and 325 hp, respective
The car
The car was recently professionally serviced by us, in which the liquids and filters were replaced. The engine had a complete check, the engine, and transmission were serviced also. The car is technically in proper condition and cosmetically as well, because it was recently professionally repainted.
De AMC Javelin SST 390 Mark Donohue had an 390 engine of approx. 325 hp and 570 nm torque! And a Borg-Warner M-11B 3-speed automatic! All the SSTs from 1970 got an independent front-wheel suspension system that made use of the upper arms and ball joints. The front-wheel suspension was complemented with a leaf spring/hydraulic shock absorber on the other side. The Donohue edition were equipped with heavy suspension parts, power steering, 11-inch powered disc brakes at the front (with 10-inch drums at the rear), the Ram Air system and a differential with limited slip.
The plate in the door shows that the color is original and the Vin number de X shows that it is a 390-V4 version. The car still have its original door tag showing the 79A paint code for Bittersweet Orange.
Options:
390 Engine 4 Barrel
Power brakes
Power steering
Twin-Grip Differential
High Capacity Cooling
8000 Rpm Tachometer
11 inch Disc brakes
Heavy duty suspension
This car comes with us title and a full service on the House! 
We can trade in your current classic or modern car, please ask us for more information or email us! 
1970 AMC Javelin 390 SST Marc Donohue