1969 Plymouth Roadrunner 383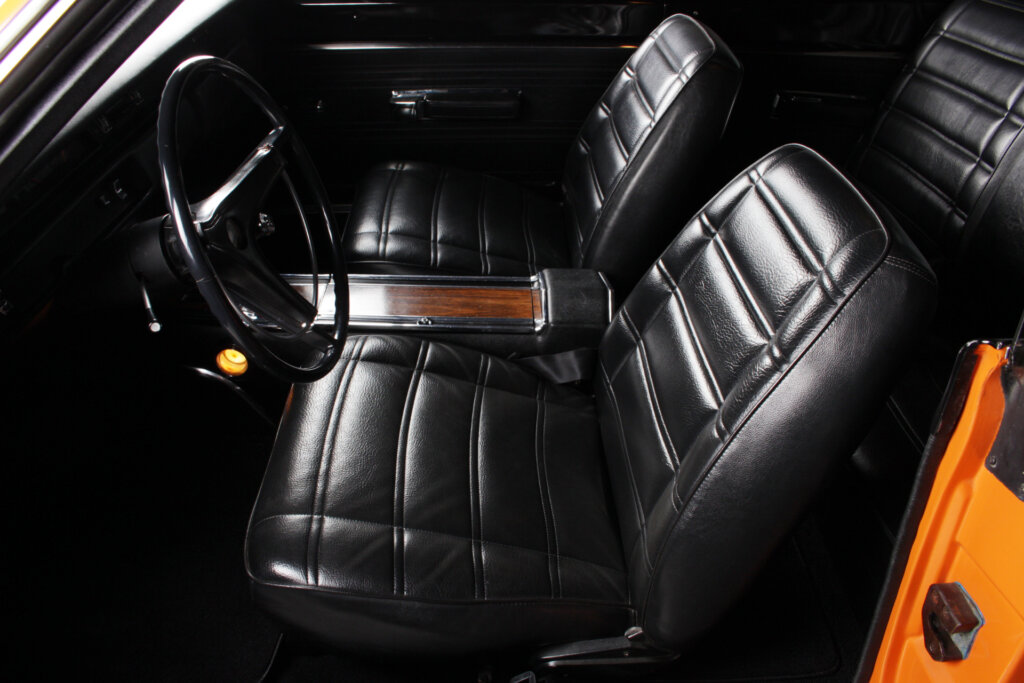 This amazing Plymouth Roadrunner 383 is rotisserie restored some years ago!
And is in an incredible state! It is completely numbers matching also!
Facts
The Roadrunner was also very successful in Drag and Nascar racing, and the won many world championships back in their days, with Richard Petty being one of the best known drivers behind the wheel. This car, being a 69, had a face lift and looked different from the 68 model. With a different tail panel and taillights, a completely different front grill and other smaller changes resulted in a more mature car than the 68 model. We feel that the 69 Roadrunner is one of the best-looking B Bodies.
The car
This Roadrunner has power steering, and the luxurious black bucket seat interior with a floor shifter and console (rare since, most Roadrunners have bench seats and a column shift) Everything on this car has been restored some years ago. The car comes with his original fender tag to prove his originality and the body & dash vin and the engine and transmission are all matching. The complete drive train, suspension, steering, fuel system, interior, electrics, everything has been rebuilt and restored. It's a special order paint car Code 99.
Engine & transmission
The Roadrunner has a 1969 date cast 383-4bbl cui big block with its full VIN stamped on the upper oil pan rail, and a 727 TF Transmission. The car was completely restored also, it got a fresh paint years ago. It is restored with almost 99% original parts. A really solid Roadrunner if you would ask us. It has a Mopar purple camshaft and electronic ignition, new dual exhausts with headers and it has an amazing sound! The engine has around 400 horsepower, so that should be quite a punch. 
Bodywork & Trim
The car is completely rotisserie restored before we bought it, all the glass & trims are original. The floors, chassis, were all in great condition before the restoration started. And the body were never damaged, rusted or repaired, so the car was already in an incredible state before the restoration. The underside of the car has also received a paint job.
Interior
The car has bucket seat interior with a floor shifter and console that is in black. That normally only the GTX had as an option. It is the original style interior and is in great condition! The car is also equipped with the decor package.
 Some of the cars options : 
Y39 special order car.

 Code 99-99 Special paint (Hemi or Omaha orange paint)

N96 Fresh air hood package.

V21 Performance hood treatment.

C55 Bucket seat interior (x9 black)

C16 Floor console with floor shifter.

J25 3 speed whiper motor.

M21 Drip rail moldings.

R11 Am dash mounted radio

15 inch magnum rally wheels.

S77 Power steering.

 Front and rear bumper guards

And more!
The car comes with black dogdish Wheels & Red line tires. Car comes with exported Belgium Registration Papers & Import taxes paid.
8 3/4 Rear Axle
Bucket seats
Console
Deluxe interior
Floor console
Floor shifter
In dash tacho
Power brakes
Power disc brakes
Power steering
| | |
| --- | --- |
| Engine type |  V8 |
| Engine size | 383 Bigblock 4bbl |
| Estimated Horsepower | 400 HP |
| Heads | Original |
| Carburetor | 4 Barrel |
| Intake | |
| Transmission Type | Automatic |
| Transmission Spec |       Chrysler 727 TF SB |
| Front Suspension Type | Stock mopar torsion bar suspension |
| Rear Suspension Type | Leafs SS |
| Front Brakes | Drum |
| Rear Brakes | Drum |