1968 Chevrolet Camaro SS with a 502cui big block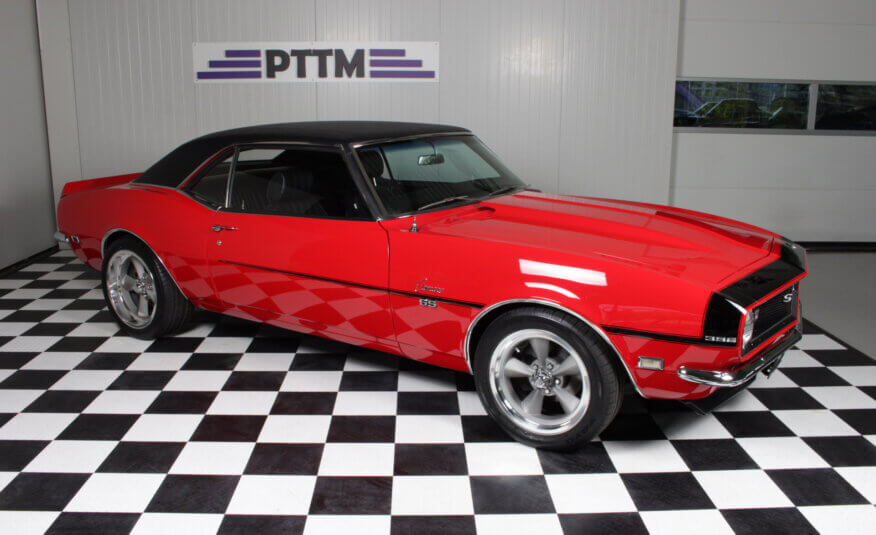 Overview
Technical
General Information
Now in our Showroom:
This amazing new Camaro has been restored inside and out! With a new 502 engine that pushes out a whopping 500 horsepower! And has a 5-speed Tremec manual gearbox. This is a beast, and drives remarkable! This beautiful 1968 Camaro with SS badges in the deep shine red color with black striping makes it a clean, smooth and elegant car! The car has a great-looking vinyl top and has incredible chrome lining. Everything looks as new on this car, and it will be a great look in the streets as you are driving. The car has a Pro touring style set up, to improve its handling, braking and steering!
The Rally red with the black SS striping, it looks incredible and clean! A very mean color combination. With the vinyl roof that's also black, it looks even more solid! The Rally red paint has a deep and nice shine! The color combination makes this car stand out amazingly! This Camaro is one hell of a ride! With its new 502 engine with 500 horsepower, it has enough power to make heads turn. The color combination with its new set of authentic American look. Makes this Camaro stand out! There aren't many Camaro's looking as smooth as this. With its traditional factory original look and new set of rims, it's a head turner for sure!
The interior of the car had also the necessary upgrades like a tachometer for your RPM's and a set of three attometer mini gauges for the oil pressure water temperature and the volts for accurate reading of your car. The interior looks really fresh and looks as new. So that you get the feeling it is a new car from the 60s when you drive away! But with the modern readings for safety.
The underside of the car is clean and rust free. Everything is coated and the car has a new exhaust system. For real, the underside of the car looks maybe even better than the outside of the car. Take a look at the pictures if you don't believe us. The total underside of the car is dismantled, and we have cleaned the floors/wheel arches etc to respray it in a black coating, also the wheel arches are protected in a new stone protecting coating, there are sub frame connectors installed to make the chassis a bit stronger, also the rear axle is painted, and we have installed all parts back after we have cleaned them.
The front sub frame has new bushings/new joints/new bump stops and new steering arms etc. And new shocks, and is painted, the front brakes are disc brakes, and power assisted, and the steering gear is also power assisted. We also have installed new Mag wheels with new tires, and have installed QA1 Coil overs in the front, that you can adjust. These wheels make the car stand out! The car has also power disc brakes to compensate for horsepower it delivers. So that it can stop pretty quickly after you make a dash for it. 
The options:
Power disc brakes
Power steering
5-speed transmission
New 502 Engine
12 bolt rear axle
Bucket seat
Black vinyl top
Black Striping
SS badges
Rear deck lid spoiler
Subframe Connectors
New Mag wheels and tyres

More information, pictures and a video are coming soon. All our cars are completely serviced and inspected before they go to our showroom!
If you want more info, pictures or other details or make a reservation, please contact our sales!
BODYWORK & TRIM:
The body has had a previous repaint, and is still very nice and straight, the trim and chrome is as new, and is cleaned and polished to a high shine, the glass is clean, and the vinyl top looks fresh too, overall it's a clean and fresh car from the outside also.
ENGINE:
 The Engine is from Chevrolet, it's a crate engine, that is being built with the best parts below a list of:
Part Number: 19331579
Displacement (cu. in.): 502
Bore x Stroke (in.): 4.470 x 4.000
Block (P/N 19170540): Cast-iron with four-bolt main caps
Crankshaft (P/N 10183723): Forged steel
Connecting Rods (P/N 19170198): Forged steel, shot peened
Pistons (P/N 12533507): Forged aluminum
Camshaft Type (P/N 12366543): Hydraulic roller
Camshaft Lift (in.): .527 intake / .544 exhaust
Camshaft Duration (@.050 in.): 224° intake / 234° exhaust
Cylinder Heads (P/N 12363390): Aluminum oval port; 110-cc chambers
Valve Size (in.): 2.250 intake / 1.880 exhaust; stainless steel
Compression Ratio: 9.6:1
Rocker Arms (P/N 12368082): Stamped steel
Rocker Arm Ratio: 1.7:1
Distributor (P/N 93440806): HEI type
Carburetor (P/N 19170094): 870-cfm
Water Pump (P/N 19168602): Aluminum, short-style
Spark Plugs and Wires: Included
Starter (P/N 12606096): Included
Flexplate (P/N 10185034): 14"
Recommended Fuel: Premium Pump
Ignition Timing: 32° Total @ 4,000 rpm
Maximum Recommended rpm: 5800
Balanced: External
The engine pushes out more than 500 +/- horsepower & 580 FT LBS of Torque! Headers with  X pipe 3 inch Steel exhaust pipes and performance mufflers
DRIVETRAIN AND SUSPENSION:
This 1968 Chevrolet Camaro SS pro touring is equipped with a complete new front to back drive line & a new professional crate engine 502cui big block from Chevrolet! Hooked up to a manual 5-speed Tremec transmission with an all new clutch & bellhousing.

INTERIOR:
There are pro tour pro car buckets seats installed, to make sure when you push the pedal to the metal you stay in your seat... a smoother smaller steering wheel is installed, and on top of the steering column is a Tachometer installed to make sure you know where you are with the RPM's, on the passenger side of the dashboard is installed a set of three autometer mini gauge's for the Oil press, water temp, and the Volts, so you have always a accurate reading, the door panels & carpet are fresh, the headliner is clean, the other bigger gauges in the dash are working, the interior trim is polished and cleaned.
if you would like to add some floor mates, or a different steering wheel, or a different tachometer, we can help you, or if you want to install air conditioning, or any other upgrades let us know.
| | |
| --- | --- |
| Engine type | V8 |
| Engine size | 502cui |
| Estimated Horsepower | 500 +/- |
| Heads | Aluminum oval port; 110-cc chambers |
| Carburetor | 870-cfm |
| Intake | X-type performance exhaust |
| Transmission Type | 5-speed Tremec |
| Transmission Spec | Manual |
| Front Suspension Type | QA1 Coil overs |
| Rear Suspension Type | Leafs |
| Front Brakes | |
| Rear Brakes | |
But if you like additional information then please contact our sales! If there are details on the car you want to change or add some personal details, we can assist you with that no problem!
- The car comes with US title and EU import taxes paid and included
- All our cars are sold with complete service and inspection prior to delivery.
- On request, we can transport the car door to door worldwide!
- On request we can also sell the car with Dutch plates or assist with TUV (H)
-  For export outside EU or business to business price please contact our sales!
- While every reasonable effort is made to ensure the accuracy of this information, we are not responsible for any errors or omissions contained on these pages. Prices and info in online ad's or website might diver and are subjected to changes and or have mistakes in them. Please verify any information in question with PedalToTheMetal Holland / Europe. 
And keep in mind that, the car you're looking at here today, was also looked at by others yesterday. And we can only sell it once!