1968 Chevrolet Camaro 454 pro-touring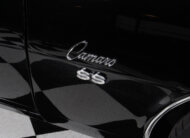 Now in our showroom:
The car
This great looking 1968 Chevy Camaro SS with it's 454 Big Block and Turbo Hydromatic automatic transmission was build from scratch and is now transformed into a great Pro touring style Muscle car. The car was completely dissembled and the body and chassis and all its components were sandblasted to the bare metal, before the rebuild and restoration was started. The body was already very solid and original to start with and not many works were needed to its structure. This car is very solid and completely rust free.
The goal was to build a fresh and as new car that was correct and original looking Camaro SS. But to upgrade it with performance steering, brake and suspension components and to add some additional power to the car as its original 396 just didn't cut it. So everything you see here is either new or rebuild or restored to as new condition.
The car was painted new inside and out in the Georges deep black paint that has a great shine, and all the suspension and steering components were also repainted or coated. Once that was completed the car was build back up with only new parts and components and no costs were spared to make this beast in to a real beauty. When it was completed it was only driven around 100 test miles to take out all the bugs and little problems that just come with any good restoration and now the car is turn key ready to be enjoyed.
The engine
The car has a pro touring style set up, to improve its handling, braking and steering, but otherwise the body and the car's interior were kept as original as possible, so the car would still look like the true classic that it is. The complete engine, transmission and the rest of drivetrain were also pro-build and the car is now equipped with a very powerful, but still very correct hi-po Gen V Chevy big block with 454 cui and around 475+hp. The sound of this beast  is just stunning and as you might know, these Chevy big blocks are one of the best and most smooth sounding engines around.
The engine bay was also detailed and freshly painted and a custom alu radiator was installed to keep things cool, even on the hottest of summer days. It's also equipped with MSD pro electronic ignition and a fresh intake and 4 bbl carburetor to make sure the car is also very reliable. The Camshaft is hydraulic and although not stock, it's also not too nervous or extreme. But be sure that this engine is also not tame, but very powerful and its power and torque is great. When you floor it, it does really kick you in the butt. That's the way we love it, and the reason we all love these muscle cars to begin with.
The interior
The complete interior was also restored and fitted with all new seats, upholstery, new carpets, headliner and door panels and a horse shoe floor shifter with console. For added comfort (very welcome in a black car) a modern style air conditioning system was added, and it just makes it more fun to drive on those hot summer days. The other only change and upgrades were, the Gorgeous looking hounds tooth black and white bucket seats and all new door panels and a set of Detroit speed gauges to make sure the data received from them is as accurate as can be. Wow! What a great-looking classic !
Overall
All in all, what we present to you here is a great and classic looking 68' Camaro SS, in a great color combination and with an awesome stance and overall appearance. It's a perfect combination of original looks combined with some more modern, but still correct styled details and upgrades. The engine itself is also a real jewel and although powerful it's not too extremely build, and it runs very smooth and is very reliable as well. There is just nothing that beats a classic, well tuned, beast like the 454 Chevy Big block.
Some of the cars long list of additional options :
Performance V8 454 / 475 HP Big block.
4 wheel disc brakes.
Tinted windows!
Custom stereo system.
Air conditioning.
Custom Detroit speed gauges.
Performance suspension system.
Power steering.
Front SS spoiler.
Rear SS spoiler.
Custom new billet alu wheels.
Billet sports steering wheel
Hounds tooth interior.
Wheel opening moldings.
Door guards.
Tinted windows
Floor shifter with console.
Cowl induction hood.
Bucket seats.
And more!
The car comes with Dutch Registration and Import taxes paid.